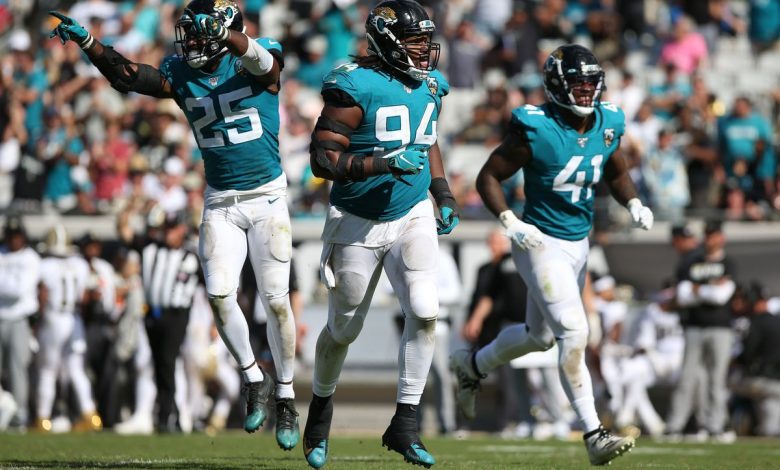 It's looking like offense will be at a premium in the NFL week 8 Jets at Jaguars free pick. Oddsmakers have set the total at just 40.5 points when Jacksonville (-7.5) hosts New York. NYJ was 'seeing ghosts' last Monday vs. New England which is fitting on Halloween week. Things don't get any easier vs. the Jacksonville defense though. Can the Jaguars offense hold up their end of the bargain?
Can New York Bounce Back on Short Week?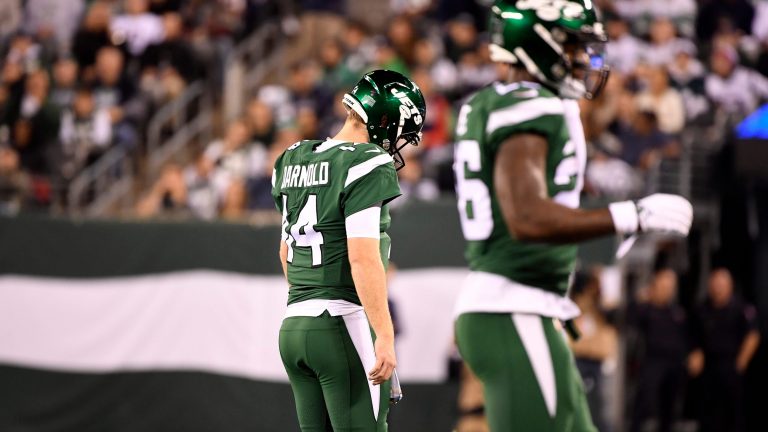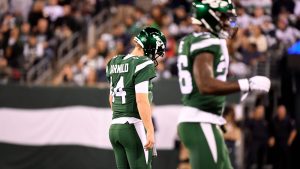 The Jets looked horrible in a 0-33 loss to New England on Monday night. That defeat has to be taken with a grain of salt though because that's what Bill Belichick and the Patriots do to everybody, especially young QBs. Oddsmakers know that the loss on the national stage was on the public's mind and want bettors to hammer Jacksonville at -7. The line reflects that, opening at JAX -4.5 earlier in the week.
It was only two weeks ago that New York looked like national darlings in a 24-22 win over the Cowboys at MetLife Stadium. Sam Darnold threw for just 86 yards and had 4 INT vs. New England, but was 23/32 for 338 yards and 2 TD vs. Dallas. Le'veon Bell had 15 carries for 70 yards vs. the Patriots which was unfortunately the best game of his Jets tenure. The Jaguars allowed just 33 yards on 20 carries to the Bengals a week ago though. The week prior Jacksonville held New Orleans to just 13 points. That doesn't bode well for the NYJ offense.
The New York defense at least gets a bit of a break in the NFL week 8 Jets at Jaguars free pick for the simple fact that they don't have to face Tom Brady. Then again, is New York going to get pounded by a heavy dose of the Jaguars run game while trying to recuperate on a short week? Even in the win over Dallas, Zeke Elliott ran the ball 28 times for 105 yards for Dallas. Dak Prescott was even a very efficient 28/40 passing in that game. Jacksonville is very methodical on offense, that might be an Achilles heel for New York on Sunday.
Is Jaguars Defense Back?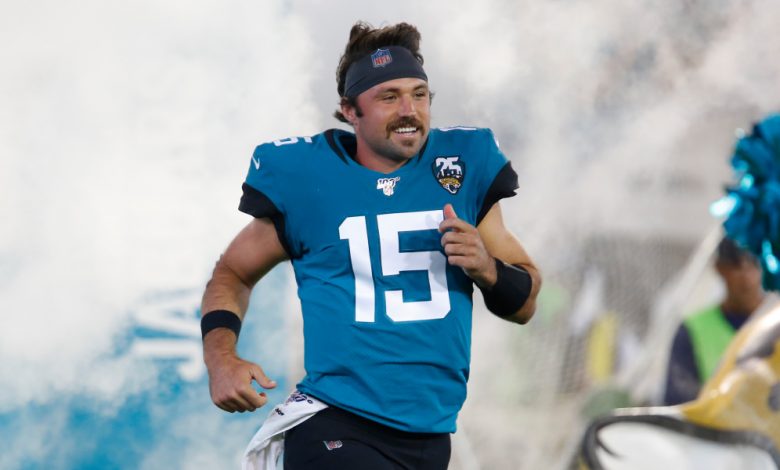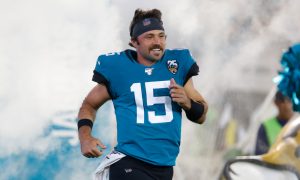 The Jacksonville defense seems to be a bit rejuvenated as of late. Aside from consecutive road games in which they allowed 29 ppg at Denver and at Carolina, the Jaguars have held 4 of the last 6 opponents to 17 points or less. That includes a bend but don't break 6-13 loss to New Orleans and Jacksonville simply exerting their will in a 27-17 win at Cincinnati last week.
The Jaguars have played 4 of their last 6 games on the road and should have a great day in Duval County vs. Darnold and the Jets on a short week. These teams met last year in Jacksonville in a very similar situation with the Jags being -7.5 favorites and coming away with a 31-12 win. Darnold threw for just 167 in that game and New York had 34 yards rushing on 14 carries.
It was Blake Bortles that shredded the New York defense last season going 29/38 for 388 and 2 TD. Can Gardner Minshew have similar success in the 2019 matchup? Minshew did what he had to do vs. Cincinnati, going 15/32 for 255 and a TD. The Jaguars were helped by a 131 yard day from Leonard Fournette vs. the Bengals – the same game plan they'll employ vs. New York. Fournette's big day opened things up for Dede Westbrook who had 6 catches for 103. Believe it or not the Jaguars have a top 10 offense which will be the difference in this one.
NFL Week 8 Jets at Jaguars Free Pick
This is one of those games where you see the total of 40.5 and say, "man that's not a lot of points to score at all"… and then it ends up 19-16. The Jets are going to be very conservative vs. a good defense in trying to build Darnold's confidence back up. The Jaguars learned last week that Fournette is their bread and butter. This one has smash mouth written all over it – and not the 90's band that sang All-Star.
Pick: Jets / Jaguars *Under* 40.5