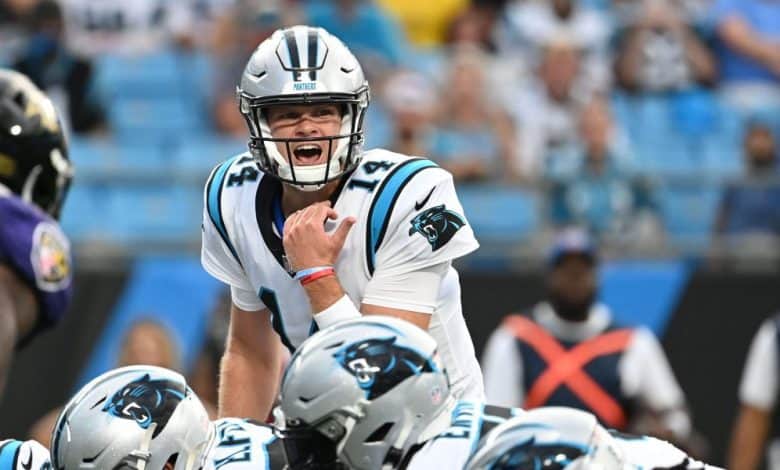 The Philadelphia defense has allowed consecutive 40+ point games and they'll try to rectify that head into the week 5 Eagles at Panthers matchup. Carolina would love to add to Philly's losing streak and make it a 4th straight game, but the Panthers have some concerns of their own after allowing 245 yards on the ground to Dallas last week.
Last Sunday's loss to the Cowboys was the first of the year for Matt Rhule's team, but the reason they are just -3 point underdogs at home is because those first three wins came against the Jets, Saints, and Texans. The Panthers might not be as good as they seem, but at the same time the Eagles have played Dallas and KC the last two weeks so their defense may not be as bad as it appears.
Eagles Making Strides
Philadelphia had their second 30+ point game of the season last week, but they also gave up 40+ in their second straight contest. Plus, last week's 30 points came against Kansas City who has the 2nd worst scoring defense in the NFL.
Philly QB Jalen Hurts went toe-to-toe with Patrick Mahomes for most of last week's game as the Eagles were down just 28-23 early in the 4th prior to the 42-30 loss. Hurts threw for 387 and 2 scores and also ran 47 to lead the team. Hurts being the leading rusher should almost be a concern for the Eagles though, as RBs Miles Sanders and Kenneth Gainwell have a combined 13 carries in the last two weeks.
Regardless of what the Eagles offense does their defense still needs a retribution game as well. Philadelphia still hasn't shored up their run defense which ranked 23rd in the NFL last season (125.8) as they are last in 2021 giving up 150.3. Dallas has run for 160 and KC 200 on the ground the last two weeks vs. Philadelphia, but the fact that Christian McCaffrey remains out for Carolina is huge in the Week 6 Eagles at Panthers matchup.
Panthers Seek Legitimacy
The 'overrated' talks still won't subside if Carolina wins on Sunday because that would put Philadelphia's record to 1-4. Carolina's three wins this season have come against teams with a combined 5-8 record.
The Panthers lost 36-28 last Sunday but that was on the road in Arlington against a Cowboys team that might be really good this season. The final score looks a little closer than the actual game was, as as Sam Darnold had a couple late TD passes after Dallas had already gone up 36-14 in the 4th quarter. Darnold had 35 yards rushing and rookie Chuba Hubbard carried the ball 13 times for 57 yards which is a positive sign coming into the matchup with the Eagles Swiss cheese run defense.
Philadelphia does come into this matchup with a top 10 offense in the league, so could Carolina get exposed again after allowing a 4TD passing day to Dak Prescott last week as well as giving up 143 yards on the ground to Zeke Elliott? Dallas ran for 245 yards vs. Carolina, but the Eagles don't have backs like Elliott and Tony Pollard – or at least they don't use them like the Cowboys do.
Week 6 Eagles at Panthers Pick
The line opened as Carolina -4.5 but is down to the Panthers -3 even though 71% of the public likes the home team. This game feels like it's decided by a FG or maybe even an Eagles outright win just based on the line and the movement. Maybe Carolina really is overrated.
Eagles 23 – Panthers 20
Free Pick: Eagles +3