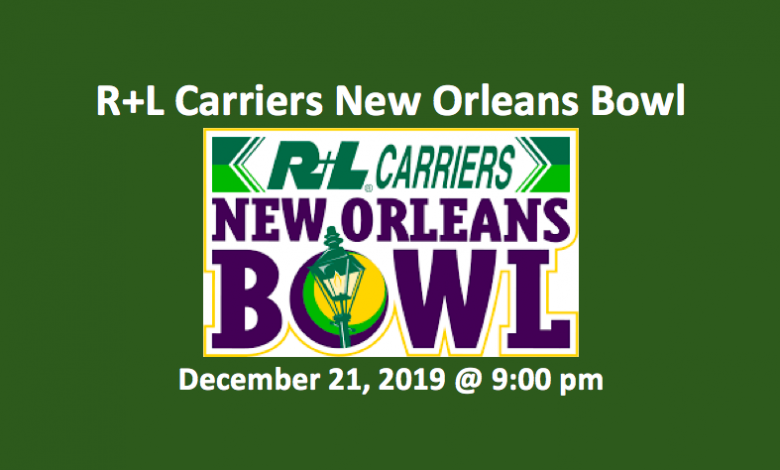 This 2019 New Orleans Bowl pick offers an over/under of 47.5. Also, our New Orleans Bowl pick, which has the Appalachian State Mountaineers vs UAB Blazers, offers the Mountaineers at -17.5. That a huge spread for a bowl game. The R+L Carriers New Orleans Bowl will kick off at 9 pm ET on Saturday, December 21. The game will be played at the Mercedes-Benz Superdome in New Orleans, LA.
The #20 Appalachian State Mountaineers (12-1) finished first in the Sun Belt Conference – East. They did so by recording a conference record of 7-1. They beat the Louisiana Ragin' Cajuns 45-38 for the SBC Championship. The UAB Blazers (9-4) topped the C-USA – West with a 6-2 conference record. The Blazers met FAU on December 7 for the C-USA title. Florida Atlantic beat UAB 49-6.
2019 New Orleans Bowl Pick – Regular Season
In the regular season, Appalachian State lost one game. That was on October 31 when they met the Georgia Southern Eagles. The Eagles took down the Mountaineers 24-21. Out of conference wins include North Carolina 34-31 and Charlotte 56-41, The Blazers won their first three games and then lost to lost to Western Kentucky 20-13. After three more wins, UAB lost two games straight. On November 2, the Tennessee Volunteers beat them 30-7. The following week, Southern Miss humiliated them 37-2. Our 2019 New Orleans Bowl pick notes that UAB posted three more wins to finish off the regular-season.
Appalachian State Mountaineers vs. UAB Blazers – Stats
Both teams have sound defenses, as the Mountaineers are holding teams to 20.2 PPG and the Blazers to 20.8 PPG. However, Appalachian State is scoring 39.4 PPG. With UAB averaging just 23.6 PPG, that gives them a major edge. The Mountaineer offense is putting up about 125 YPG more than their bowl opponents.
Appalachian State at UAB – Players
The Appalachian State pass attack is potent, and the team has a sound defense. On the other hand, the UAB offense is lacking when it comes to a pass attack. It's rush attack does have decent potential. The Blazers do out a fine pass rush on the field.
Appalachian State Mountaineers
QB Zac Thomas, who thrown for 2,576 yards, comes to this game with 26 TD passes and six INTs. He's connected on 63.3% of his passes. Thomas has been sacked 17 times. Five receivers have a total of 25 TD catches. WR Corey Sutton has recorded 41 receptions and seven TD catches. RB Darrynton Evans has 1.323 yards on 236 carries for 5.6 YPA. He's scored 17 times.
The Mountaineers have recorded 30 sacks, 13 interceptions, and 11 forced fumbles. The team has recorded eight fumble recoveries and 56 PD. DB Shaun Jolly is a major power on defense. He comes to this game with five picks and seven PD. LB Akeem Davis-Gaither has recorded 40 solo tackles and 4.5 sacks. The Mountaineer D has scored four TDs.
UAB Blazers
Our 2019 New Orleans Bowl pick notes that the Blazers are quarterbacked by sophomore Tyler Johnson III. Johnson has 15 TDs and 14 INTs. He completing just 58.1% of his passes and has been sacked nine times. The receiving unit includes three productive receivers, including Austin Watkins. Watkins has 47 catches for 933 yards and five scores. WR Kendall Parham has six TD receptions and WR Myron Mitchell four. Although third in rushing yards, RB Lucious Stanley has seven TD runs.
The Blazers have a fine pass rush. They've recorded 43 sacks. They've also forced 18 fumbles, recovering 13, and defended 51 passes while making seven picks. LBs Kristopher Moll and Jordan Smith have recorded nine and 10 sacks respectively. Each has forced four fumbles, while Moll leads UAB in total tackles with 95.
Five Keys to the Game
In determining our 2019 New Orleans Bowl pick, these are our keys to this bowl:
UAB defense has to perform perfectly
Appalachian State offense is varied and tough to stop
Blazers pass rush could help slow Mountaineers down
Mountaineers also have a sound D
Depth and skill favors Appalachian State.
Our 2019 New Orleans Bowl Pick
Our 2019 New Orleans Bowl pick finds that Appalachian State has a major advantage on offense. Is it enough to win by more than 17.5 points? We think it is. However, we doubt that the Blazers will have enough in their tank to score many points. What does all of this mean for the over/under? We like the over at 47.5 just because we think that State can put about 40 on the scoreboard.
See our Boise State versus Washington Las Vegas Bowl pick. You'll find links to all of our bowl predictions on this page.
Makers Wanted New Orleans Bowl Pick – Summary
Appalachian State Mountaineers at -17.5 and over 47.5