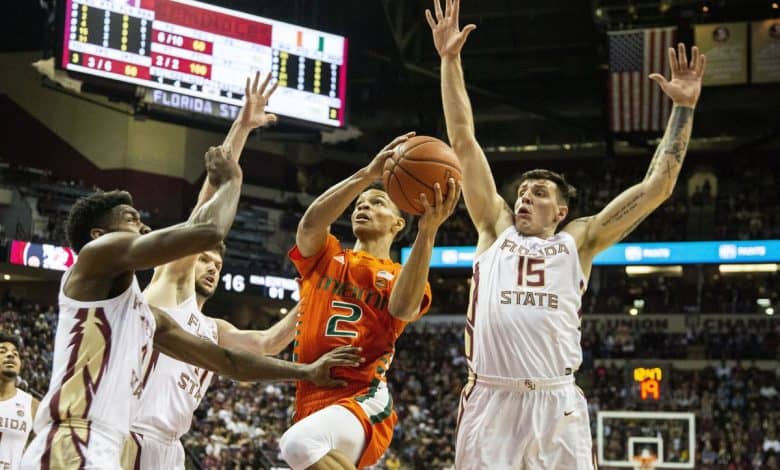 Maybe a win in Tallahassee in the January 11th Miami at Florida State betting matchup will finally give the Hurricanes some national love. Miami still couldn't crack into the top 25 this week despite a 9-game win streak that includes a victory over #2 Duke on Saturday, 76-74 as +15 point road underdogs.
The Seminoles have lost 4 of their last 7, but are still a -6.5 favorite on Tuesday night. FSU has gone 2-2 in ACC play so far but Miami is 5-0 and atop the conference. Florida State is 5-1 at the Donald L. Tucker Civic Center, but being -6.5 favorites against a red hot Hurricanes team just seems off. Over 84% of public betting is on the Hurricanes so is this an early trap game of the year candidate?
Can Miami Avoid a Letdown?
It was a hard fought win at Cameron Indoor Stadium on Saturday night but one that the Hurricanes earned nonetheless. Miami's defense forced 17 Duke turnovers including 15 steals, with Charlie Moore clamping down on defense for 7 of those takeaways.
Of course now the goal in the January 11th Miami at Florida State betting contest is the Hurricanes having the quick turnaround against in-state rival Florida State. What was crazy about Miami's strong defensive outing on Saturday is that it is not usually their strong point, ranking 3rd worst in the ACC giving up 73.8 ppg. The Hurricanes also have the worst rebounding margin in the conference, yet are still 5-0 in ACC play.
Even if the Hurricanes defense struggles on Tuesday after burning up so much energy over the weekend, they still have the offense to at the very least keep this one within the +6.5 spread. Miami is 5th in the ACC in scoring (77.1 ppg) with Kameron McGusty scoring 14+ in 8 straight, Isaiah Wong scoring 14+ in seven in a row, and Charlie Moore stepping up with 18+ in the last three.
Florida State Has Owned This Matchup
Miami is currently on a nice little run, but Florida State has been really dominant in the head to head series. FSU has won 7 straight in the series, and has been especially dominant over the last three meetings with wins by 18, 22, and 17 points.
The only problem with the Seminoles recent dominance over Miami is that at 8-5 they are not having the same type of success this year as in the past. They've had a high mark of 8 losses over the previous three seasons and that looks in danger in case FSU can get red hot in conference play.
Florida State is 2-2 in ACC play so far losing to Syracuse (63-60) and at Wake Forest (76-54) with wins at NC State (63-61) and most recently Saturday with a 79-70 home victory over Louisville. That's an up and down mark so far and with FSU having the #10 defense and #8 offense in the ACC it's just dumbfounding that they are -6.5 favorites on Tuesday.
Free January 11th Miami at Florida State Betting Pick
They usually don't give them out this easy. Miami is fresh off a win over #2 Duke and turn around getting +6.5 points at a somewhat struggling Florida State squad? The Hurricanes seem to have value even if this line was -6.5, so it's no wonder something like 85% of the public is on FSU. Have to fade numbers like that.
Seminoles 77 – Hurricanes 69
Free Pick: Seminoles -6.5