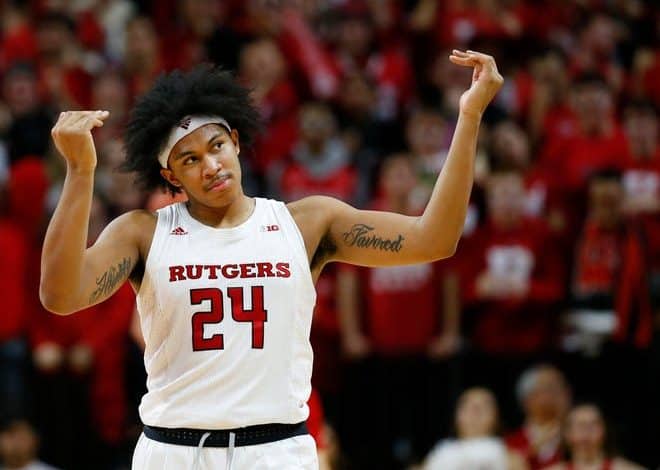 There's a lot to figure out heading into the January 28th Michigan State at Rutgers pick. On one side of the court we've got an 8-4 Spartans team playing their first game in the last 20 days, but has also beaten Rutgers all 11 times the teams have played each other.
The Scarlet Knights are also an enigma, beating Indiana 74-70 on Sunday but losing five straight prior to that. These two teams didn't meet last year when Rutgers put together a very impressive 18-1 record at the RAC, and the Scarlet Knights are now just 6-3 at home with no fans allowed in attendance. The Scarlet Knights are still -2.5 favorites however.
Matchup of the Mediocre
Neither team does a lot to impress you on either end of the court. Michigan State ranks 8th in the Big Ten in scoring, 9th in defense while Rutgers is 10th and 8th respectively. Both teams do rely on balance in their offensive approach though, as Ron Harper, Jr. is the only player on the court averaging more than 15 ppg for either squad.
Michigan State's Aaron Henry probably has the most big game potential in this matchup, as he has gone for 20+ points in two of the last three -prior to a long layoff however. Henry had 20 points and 8 rebounds in MSU's 23 point win over Rutgers in early January. Joey Hauser also grabbed 14 rebounds in that earlier matchup.
Rebounding could be a big problem for the Scarlet Knights in the January 28th Michigan State at Rutgers pick. MSU outrebounded Rutgers 43-21 in the first meeting, and the Scarlet Knights have the 3rd worst rebounding rate in the Big Ten.
Rutgers Looking for First Ever vs. MSU
The Scarlet Knights didn't get a chance to host MSU at the RAC during their remarkable run last season. Things didn't pop off very well vs. the Spartans earlier this season though, as the Scarlet Knights shot just 18-59 from the field en route to a season low 45 points.
Rutgers is just 1-5 over their last six, and although that stretch includes a 2 point loss to Iowa for the most part the Scarlet Knights haven't been playing good basketball. That run includes the big loss to Michigan State, falling by 11 at home to Ohio State and losing by 8 at Penn State as -2.5 favorites.
Steve Pikiell's team did look good last time out vs. Indiana, although it was also a letdown spot for the Hoosiers after they knocked off #4 Iowa the previous game. It was really a team effort for Rutgers on Sunday, as 7 players had at least 7 points. Geo Baker had 19, his highest point total of the past five games which shows he may be finally getting healthy.
January 28th Michigan State at Rutgers Pick
Obviously the 20 day layoff is a tough one to work around for Michigan State. The good news is they likely aren't depleted, except for maybe 7.5 ppg scorer Gabe Brown. The line has stayed firm at -2.5 and Rutgers wants their first ever win over MSU.
That being said, when a team has 11-0 record against the other and is getting points, that's incredible value. MSU overpowered Rutgers in the first meeting, and a lack of fans definitely doesn't help Rutgers in this one.
Michigan State 69 – Rutgers 68
Free Pick: Spartans +2.5