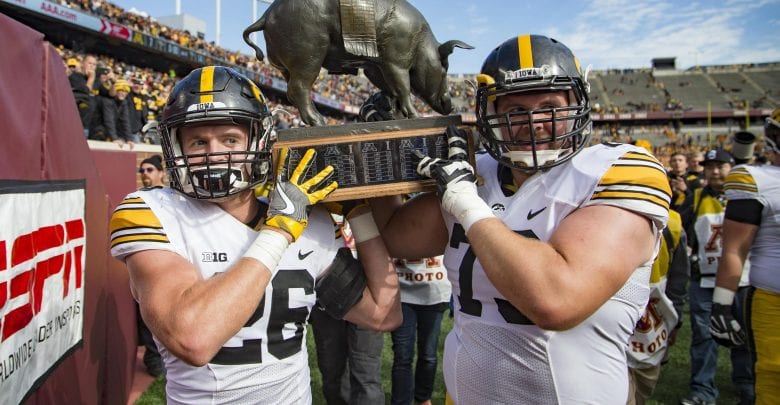 A big bronze pig is on the line today as the Minnesota Golden Gophers (4-3) travel to take on the Iowa Hawkeyes (4-3). The Hawkeyes have held 'Floyd of Rosedale' for four of the past five years and Saturday's tilt actually has serious postseason implications for both squads in the 10/28 Big Ten college football free pick.
The loser of today's game will need to win two, and more likely three of their last four games to qualify for a bowl game. The Hawkeyes have tilts with the Ohio State and Wisconsin left while the Golden Gophers still have to play Michigan and also the Badgers. Therefore this is about as must-win as you can get in the last weekend of October.
Iowa and Minnesota LITERALLY play for Bacon. Merica

— Retland (@MhawkRetland) October 28, 2017
Does Minnesota Have Any Chance on the Road?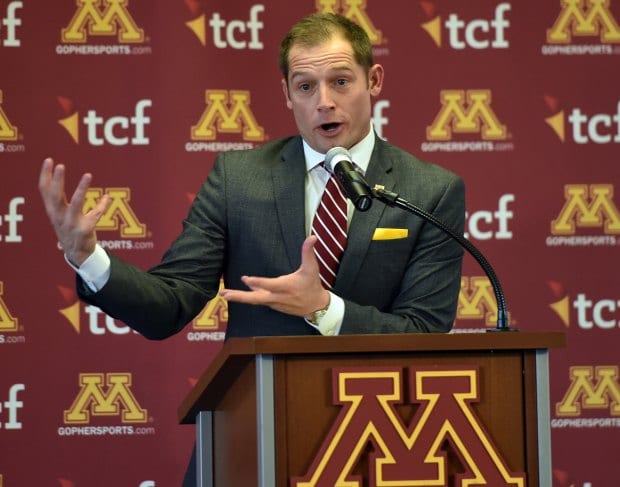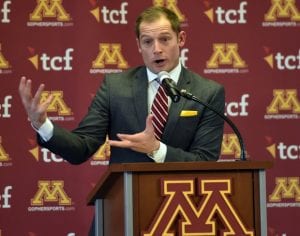 The Golden Gophers have had a disappointing first season under new coach PJ Fleck – and he'd be the first to admit it. They've been especially dysfunctional lately going 1-3 in conference games with three of the four being home tilts. The Gophers offense isn't exactly going to conjure up images of the Greatest Show on Turf, they completed only 5 passes last week against Illinois – well 7 when you count the two INTs by the Illini. The Gophers have the 103rd ranked total offense in the FBS and is 116th in passing yards.
The Gophers do have a sound rushing attack but that's traditionally one of the Hawks' strong points. Minnesota ran for almost 300 yards last week against Illinois – but that's Illinois. The Hawkeyes held Michigan State to under 90 yards total rushing and it took Northwestern 46 attempts to get 147 yards. It's just hard to see the Golden Gophers get any semblance of an offense going against the Hawkeyes at home in the 10/28 Big Ten college football Free Pick.
Minnesota-Iowa everyone! https://t.co/AlX2NpYvH3

— LukeMeredith (@LukeMeredithAP) October 28, 2017
Iowa Coming Out Mean and Nasty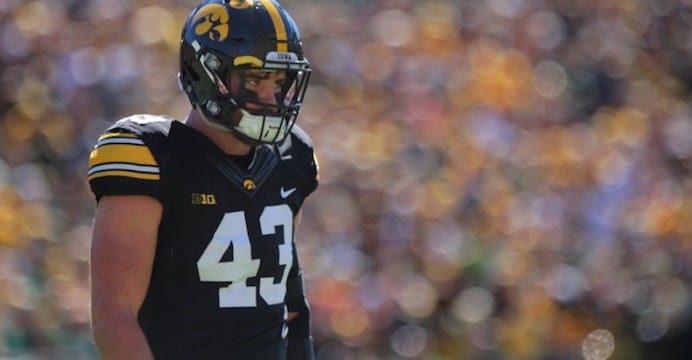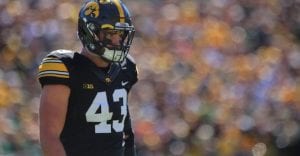 To compound things for the Golden Gophers is the fact that Iowa might have some bitter tastes in their mouth after an OT loss to Northwestern last week. The Hawkeyes offense was putrid in that game gaining barely over 300 yards of total offense, but to be fair the Wildcats were -3 favorites in that game.
Iowa seems to be in a freefall after dropping a 19-21 last second decision at home to Penn State. Iowa has scored less than 20 points in three of four games and the only team they were clicking against was once again everybody's favorite team to throttle – Illinois. For the 10/28 Big Ten college football free pick the Iowa offense is 102nd in the nation in total yards and especially poor in rushing coming in at 103rd. Despite Minnesota's poor start, they have been solid on defense ranking in the top 25 in yards against (317), passing yards (183.1), and points allowed (19).
In Minnesota they like to say the only good thing that ever came out of Iowa is I-35

— Downtown Indy (@SSJIndy) October 28, 2017
10/28 Big Ten College Football Free Pick – Betting
After breaking down the numbers, it's downright hard to pick either side in this matchup. Bettors are agreeing as 53% of them like Minnesota and the points which has actually moved the number from the Iowa -9 open to where it stands now at -7. The Northwestern game has to weigh on the minds of the Hawkeyes, but they could also be looking towards a matchup at home against Ohio State next week. This game has all the makings of an 'under' with two inept offense, but it will be the Golden Gophers inexperience playing away from home (4 of the last 5 in Minnesota) that will decide this game.
Pick: Iowa Hawkeyes +7