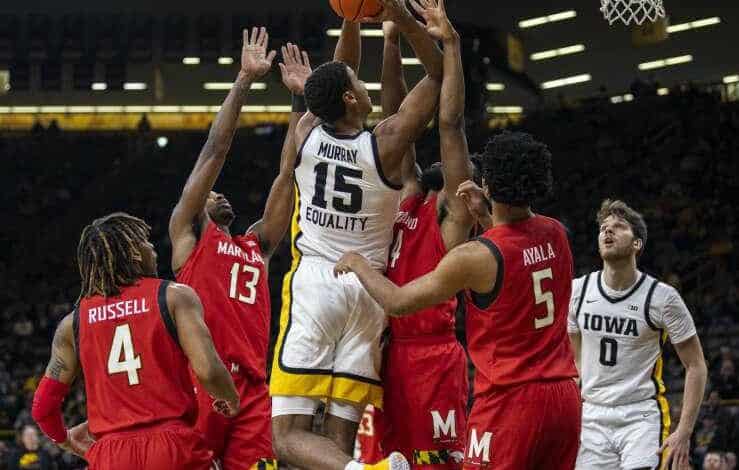 It's another tough Big Ten conference showdown in the February 10th Iowa at Maryland betting matchup. The Terrapins need a win after dropping three straight, and their 3-9 conference record is the third worst in the Big Ten. Maryland was blown out 82-67 over the weekend at Ohio State, failing to even cover the +9.5 line.
Iowa is just 5-6 in Big Ten play, but at least they come into this game off of a win after beating Minnesota 71-59 on Saturday but as -12.5 favorites. The Hawkeyes had lost three of four prior, but also have an 80-75 win over Maryland in early January although they failed to cover the -9.5 spread. Iowa is a -4 favorite in Thursday's rematch.
Iowa Looks for Two Straight
The Hawkeyes have dropped four of their five conference road games this season, falling at Purdue, Wisconsin, Rutgers, and Penn State while also beating Minnesota in the Twin Cities. Those are tough places to get wins at for the most part, but the 1-4 conference road record also doesn't exude a lot of confidence heading into the February 10th Iowa at Maryland betting matchup.
Iowa's most recent road loss came 90-86 in OT at Penn State as -5 point favorites, a very similar point spread to what the Hawkeyes have on them in Thursday night's matchup. The good news is that Iowa bounced back nicely on Saturday with a 71-59 win against Minnesota – the bad news is they were supposed to win that game (as -12.5 favorites) and it was at home.
There's no doubt Iowa has the talent to get the win in Maryland, led by the nation's #4 leading scorer Keegan Murray (22.4 ppg). Also the losses at Wisconsin, Rutgers, and Penn State came against three of the top four defenses in the Big Ten – while Maryland ranks 12th (69.4 ppg). Once again some bad news – Iowa's defense is 13th in the Big Ten giving up 70.5 ppg.
Maryland Defense Had Been Improving
Saturday's 82-67 loss at Ohio State was disappointing for a variety of reasons for Maryland. For starters it pushed them to a three game losing streak and down to 3-9 in conference play, but also it was a step back for their defense that had held four straight opponents under 70 points.
Even though the Terrapins didn't look very good against OSU, there are some reasons to like them on Thursday night. Prior to their three game losing streak the Terrapins got a win in a very tough place to play at Rutgers (68-60) and the game before that upset first place Illinois 81-65 in College Park as +4.5 underdogs. The Fighting Illini were without dominant big man Kofi Cockburn in that game, but that's still an impressive showing for Maryland.
Free February 10th Iowa at Maryland Betting Pick
Iowa did get a 5-point win over Maryland back in early January when Murray was basically unstoppable with 35 points on 14-21 shooting. The Terrapins had a nice well rounded offensive game against the Iowa defense with five players scoring in double figures but they still couldn't counter the unconscious Murray. Maryland's defense has played much better since that game, and being at home should give them the edge in this matchup.
Maryland 69 – Iowa 68
Free Pick: Maryland +4