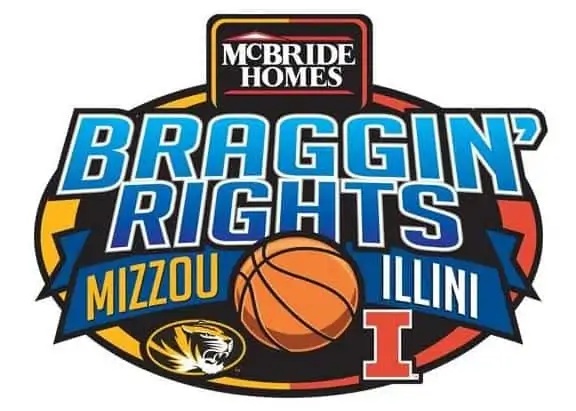 You can usually throw out the records in the Illinois vs Missouri betting matchup every December when these two teams meet in the Braggin' Rights Classic. The Tigers won three games in a row from 2018-2020 even while being an underdog in each meeting but the Fighting Illini got back on track last year in a dominating 88-63 win that even covered the -14.5 point spread.
You don't have to throw out the records in the 2022 Braggin' Rights game because both teams are very good. Illinois (8-3) is up to #16 in the country while Mizzou is 10-1 and could be knocking on the door of a top 25 berth if they can get a win on Thursday night. The Fighting Illini are -6.5 favorites and 64% of the betting public likes Illinois for a second straight huge win in this rivalry game.
Fighting Illini Limping a Bit
Illinois has alternated wins and losses their last four games, one of those victories being huge 85-78 over then #2 Texas but the other very much expected 68-47 against Alabama A&M last Saturday as -32 point favorites.
It's the recent defeats that have Illini fans on edge, falling 71-66 at Maryland on December 2nd but on the road against a good Terrapins squad and as +1.5 underdogs. The other loss was 74-59 at home to Penn State on December 10th when Illinois was a -10 point favorite. It's that loss to the Nittany Lions specifically that shows the tendency for a mental lapse which could have the Tigers walking away with Thursday night's Illinois vs Missouri betting matchup.
Make no mistake when the Illini are rolling they are really good as evidenced in the win over Texas as well as  victory over then #8 UCLA 79-70 in Las Vegas and stomping Syracuse 73-44 at home in the ACC / Big Ten Challenge. Illinois has some great scoring depth behind Terrance Shannon, Jr. (17.8 ppg) as well as Matthew Mayer (20+ in two of the last three) and Coleman Hawkins (triple double against Syracuse).
Mizzou Tries to Make a Statement
Both Illinois and Missouri want to win the Braggin' Rights Classic each year, but the Tigers really want this one to prove their legitimacy. Mizzou suffered their first loss of the season recently in a 95-67 defeat to #4 Kansas in a game where the Tigers were only +3 point underdogs.
Despite having just one loss on the year, Missouri still didn't pick up a single vote for the top 25 mostly because their strength of schedule ranks 134th in the nation. The Tigers started off the season 9-0, but eight of those wins were at home and as at least a -12 point favorite.
Mizzou's two signature wins this year if you want to call them that are 88-84 on the road in OT against 6-5 Wichita State (as -2.5 favorites) and last Saturday 68-66 against UCF in the Orange Bowl Classic to cover the +1.5 number. Missouri is 4th in the country scoring 88.4 ppg and five players score in double figures, but you also have to take quality of opponent into consideration.
Free Illinois vs Missouri Betting Pick
Missouri has a high scoring offense, but also is in the bottom half in the country in adjusted defense even though 9 of their 11 games have been at home and their quality of competition hasn't been that great. That being said, +6.5 is just too many points in this rivalry game, especially with Illinois tripping up lately in conference tests against Maryland and Penn State.
Free Pick: Missouri +6.5