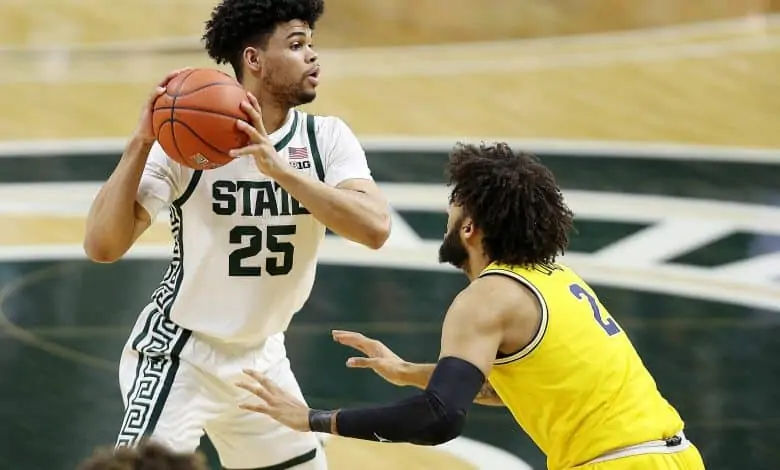 East Lansing takes center stage for a rivalry game in the January 29th Michigan at Michigan State betting contest. The Spartans (15-4) are coming off a rare loss, falling 56-55 in Champaign against Illinois on Tuesday night while UM looks back on track with a three game win streak.
Illinois and Wisconsin are tied atop the Big Ten with a 7-2 conference record so Saturday's game is huge for both 6-2 Michigan State as well as 4-3 Michigan. These two still have a postponed game in Ann Arbor that has yet to be rescheduled, and the Wolverines would like to see that game made up considering the home team has won the last five games in this series. That includes a 70-64 Spartans win in East Lansing last season even though they were +7.5 underdogs. MSU is a -3 point favorite in the teams' first meeting of 2021/22.
His Michigan Righted the Ship?
The Wolverines are a streaky team this year. They were up to #4 in the country at one point, proceeded to lose 7 of their next 12, but now are on the verge of a breakthrough after three straight conference wins. Their most recent stretch included dominant wins over Maryland (83-64) and at Indiana (80-62) before barely getting by Northwestern (72-70) in what was a 'look ahead' game to the Michigan State matchup.
The Wolverines offense has looked good with 72+ in three straight games following a 68-53 loss in Champaign. That includes scoring 80 points on the road against the Big Ten's #1 defense in Indiana (63.4 ppg). Michigan State has the #4 defense in the conference (65.6 ppg).
Northwestern did a good job of limiting Michigan big man Hunter Dickinson to 9 points and 5 rebounds, but he's more than capable of breaking out vs. the Spartans after scoring 20+ in four of five games prior. It's really been freshman Caleb Houstan that has turned things on with 16+ points in three straight while averaging just 10.7 ppg on the year.
Was Michigan State Looking Ahead?
You wouldn't think a road game against the Big Ten's first place team would be one to overlook, but it looks like that's what Michigan State did in Tuesday's 56-55 loss against Illinois. Normally that would be a solid performance on the road against the #24 team in the country, but the Fighting Illini were missing 21.1 ppg and 11.8 rpg from 7'0, 285 pound Kofi Cockburn who missed the game with a concussion.
The Spartans have now dropped two of their last three Big Ten games after winning nine in a row overall prior to that. Their 64-62 loss to Northwestern on January 15th came at home as -9.5 favorites. Before counting MSU out though, they also had a dominating 86-74 win against Wisconsin in Madison last Friday.
Free January 29th Michigan at Michigan State Betting Preview
It might look like Michigan State has been exposed a bit over the past three games but then they have the nearly perfect showing at the Kohl Center mixed in there. The line has dropped from MSU -4.5 to MSU -3 as the public seems to like Michigan, especially with the Spartans losing to a very shorthanded Illinois squad this week.
That loss in Champaign also proves that the Spartans were looking ahead to this matchup, and they want it. It doesn't hurt that the home team has won five straight in the series either.
Michigan State 73 – Michigan 65
Free Pick: Michigan State -3