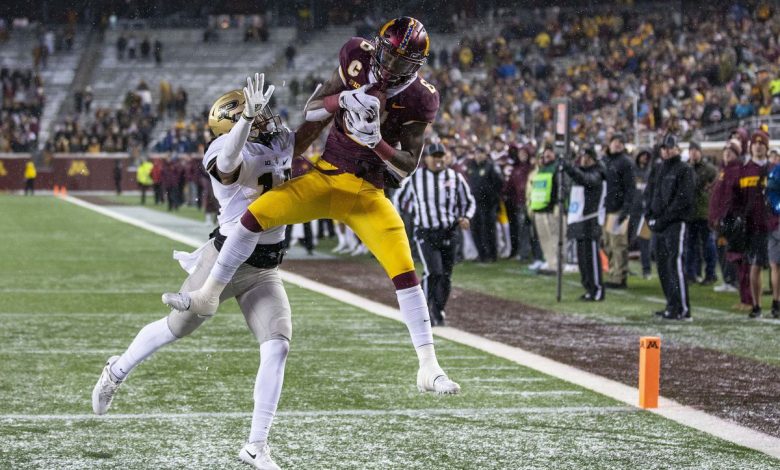 The NCAA week 5 Minnesota at Purdue free pick has a chance to be an explosive one as two of the best receivers in the Big Ten take the field. The Golden Gophers' Tyler Johnson and the Boilers' Rondale Moore can put up huge numbers on Saturday, one of the main reasons the total is set at 56.5. This game looks sneaky with Minnesota a +1 road underdog despite winning by 31 points in the Twin Cities last season.
Minnesota a Quiet 3-0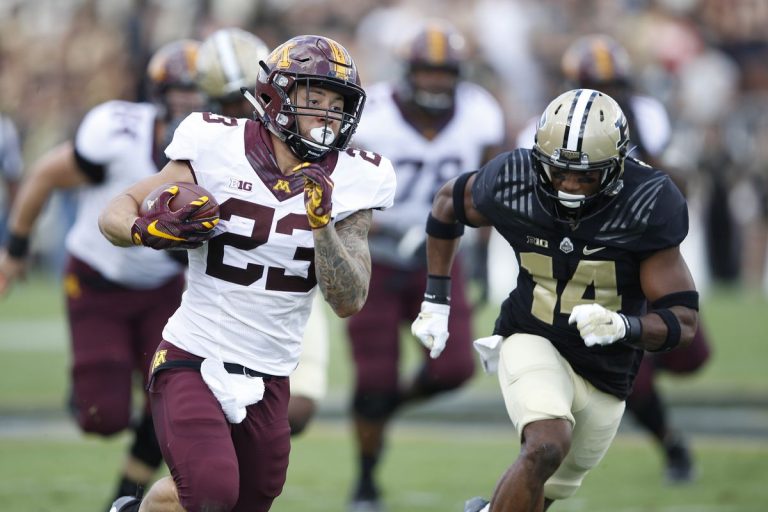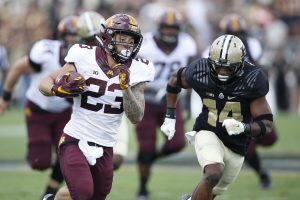 The Golden Gophers have checked every box of goals through their first three games, mainly winning. Minnesota had two wins over underwhelming opponents South Dakota State and Georgia Southern, survived a road trip to Fresno State, and come off a bye week 3-0 heading into Big Ten play. 
PJ Fleck's team has a great chance to push that record to 4-0 if they can get their running game going in the NCAA week 5 Minnesota at Purdue free pick. RBs Rodney Smith and Mo Ibrahim are a solid combo but the Gophers also get a boost with the return of Shannon Brooks. The oft-injured SR. had 18 carries for 116 yards vs. Purdue in 2017 but missed nearly all of last year with injury. The Boilers gave up 346 yards on the ground to TCU in their last game two weeks ago.
So Minnesota should be able to run the ball Saturday, which should open things up even more for Tyler Johnson. He had 5 catches for 73 yards and a TD in the win over Purdue last season and broke out in the Gophers last game with 10 grabs for 140 yards and 3 TD. In that game on September 14th against Georgia Southern, Minnesota gave up 32 points (even though 6 came on fumble recovery) as -17 home favorites. The Gophers do have a top 30 defense in total yards, but the competition has also been underwhelming.
Purdue Tries to Regroup in Big Ten Opener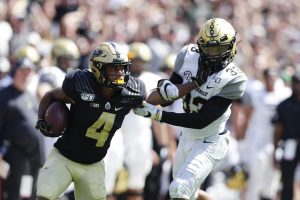 Being idle last week should be huge for Purdue, not just because they have time to clear their heads after getting dominated by TCU, but because it gives QB Elijah Sindelar extra time to recover from a concussion in week two. It's been a tough start for Purdue losing at Nevada in the opener as -11 favorites, bowling over Vanderbilt in week two but losing their QB, and getting embarrassed at home by the Horned Frogs 34-13 on September 14th.
The good news is that Jeff Brohm's team has a chance in the NCAA week 5 Minnesota at Purdue free pick – if Sindelar can play. In week 3 against TCU, Purdue had to go with redshirt freshman Jack Plummer who was just 13/29 with 2 INT. By proxy, Rondale Moore's production went down too with just 3 catches for 25 yards. Sindelar is officially questionable for this contest but Purdue needs him – especially with the nation's 2nd to worst running game that churns out just 51 yards per game on the ground.
NCAA Week 5 Minnesota at Purdue Free Pick
Assume Sindelar is going to play in this one as the Senior QB wants to get out there for the start of conference play. Is it going to be enough though? Purdue looked bad in the opener at Nevada and really, really bad last week vs. TCU. Minnesota hasn't exactly been sharp despite their 3-0 start, but at least their offense is multi-dimensional – the Boilermakers have absolutely no running game. The Gophers can run,run,run vs. the weak Purdue interior D which will open up pick and choose spots for Johnson at wideout.
Pick: Minnesota Golden Gophers +1