NBA Picks
NBA Pick: Golden State Warriors at Charlotte Hornets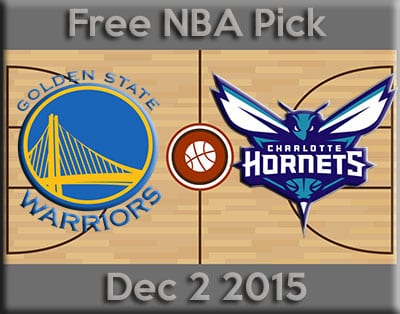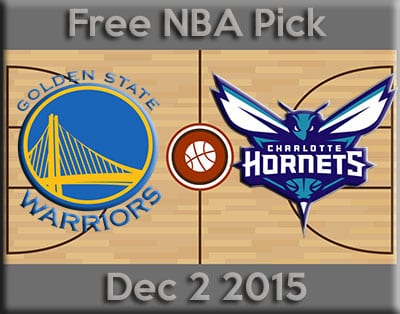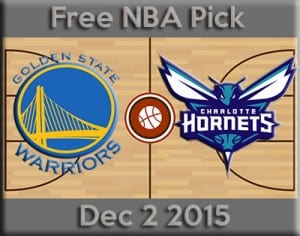 The Golden State Warriors have been an unstoppable force to open up the 2015-16 NBA season, as reigning MVP Stephen Curry has averaged over 30 points per game en route to an incredible 19-0 start. Golden State's run is unlikely to end in Charlotte when they face the Hornets on Wednesday night, but road games can always be a challenge. Can the Hornets, winners of 7 of their last 10, shock the world?
Matchup History
Warriors and Hornets fans get a bit of a treat on Wednesday night, as Golden State and Charlotte meet up for just the 51st time in NBA history. This is obviously not a very storied matchup at all, but it's been pretty competitive with Charlotte narrowly edging out the Warriors, 27-23. Golden State has held the recent edge as they swept the series 2-0 last year and have won four of the last six contests. The Hornets did sweep the series during the 2013-14 NBA season, however.
Warriors Preview (-9.5)
What can be said about the Warriors that hasn't been already? Curry has been unreal and he's done most of the heavy lifting with the rest of the offense spread out between Klay Thompson, Harrison Barnes and Draymond Green. Steve Kerr still isn't around in a permanent capacity and Barnes actually hit the shelf recently with an injury, so there is a light sense that Golden State's first loss could be coming in the near future. No one expects them to win forever, but the Warriors have truly been unstoppable, as they have found ways to get hot and pull out games they probably shouldn't have won. They're dominant even when they're not dominant, in a sense, and it's rather mind boggling. They also play at whatever pace they want while also playing really solid defense, so much so that they're dropping 115 points per game on opponents, yet on average the team's they're facing aren't even scoring 100 points (allowing 99 points per game). They've been just as impressive on the road (9-0) as at home (10-) and while a loss is sure to come eventually, they don't have an obvious weakness to attack.
Hornets Preview (+9.5)
Charlotte has one thing going for them in this matchup: they're at home. The Hornets have been very strong on their home floor during the 2015-16 NBA season, as they've posted an 8-2 record and seem to be a different team in front of their home crowd. This isn't your usual Charlotte team, either, as they've evolved into a pretty decent offensive squad and put up over 102 points per game. Not having Michael Kidd-Gilchrist around to defend the perimeter has hurt their defense a good amount, but they've remained a stingy unit (allowing just 98 points per game). They could lose some bite going forward, however, as big man Al Jefferson is hurt and could miss 2-3 weeks. That puts added pressure on guys like Cody Zeller and Frank Kaminsky and it's tough to see them playing at a high level against a tough Golden State interior defense that boasts muscle like Draymond Green, Andrew Bogut and Festus Ezili. That being said, the Hornets have a mild chance here, since they do play so well at home.
The Pick
Charlotte playing host does cause me to pause for a second, but it's the shortest second known to man. Yes, the Warriors are a team of humans and they can lose, but it's incredibly doubtful. They have an intense focus and they aren't the type of team that gets bullied or allows a letdown. If they lose to the Hornets, it will be because Charlotte hits 70% of their shots and/or holds Golden State to 100 points or fewer. Based on everything we've seen, neither is likely to happen, while Al Jefferson's absence hurts Charlotte at both ends considerably. Basically Kemba Walker needs to win this game and he's not efficient enough to trust.
I'm going Golden State straight up all day and while the Hornets are pretty competitive – especially at home – I like the Warriors to cover, as well.