NBA Picks
Los Angeles Lakers at Brooklyn Nets Betting Pick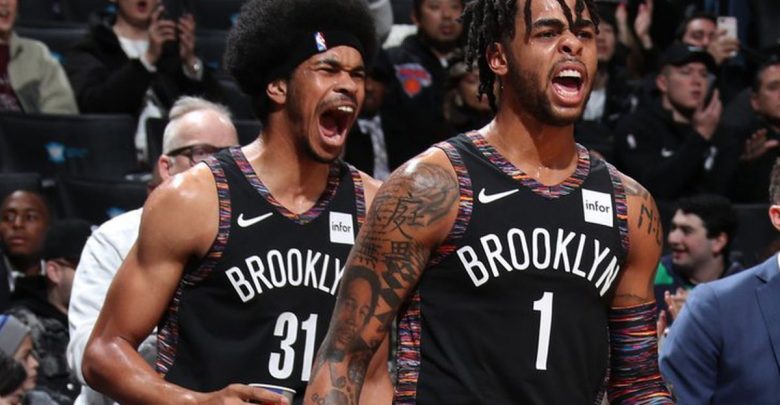 The Lakers will continue their long Eastern Conference road trip on Tuesday night in Brooklyn. Los Angeles will take on a suddenly red-hot Nets team that comes into this game riding a five-game winning streak. Both teams feature a ton of young stars, but the Lakers are led by the best player in the NBA.
Brooklyn brings a 13-18 record into this matchup against the Los Angeles Lakers. The Nets sit in fourth place in the Atlantic Division, and it appears that they will miss out on the playoffs again this season. The Lakers have gone just 1-2 on their current road trip and bring an 18-12 record into this contest. Los Angeles is a 2.0 point favorite over the Brooklyn Nets in this game.
Young Guards Leading Nets
The Brooklyn Nets look like they have a pair of future stars in their backcourt. Caris LeVert and D'Angelo Russell have combined for over 36 points per game this season, and have the ability to score both inside and outside. Russell also leads the team with 6.0 assists per game, and the former Lakers star will look to have a big game against his former team.
Brooklyn sits just outside the top-10 in scoring so far this season, averaging 111.0 points per game. The Nets have struggled on the defensive end of the floor, giving up 111.8 points per game. Brooklyn has been giving up points like crazy during their current five-game winning streak, but their offense has been able to outscore opponents. The Nets will have to find a way to slow down LeBron James in this game.
"King" James Carrying Lakers Squad
Speaking of LeBron, "King James" has been doing a little bit of everything for his Lakers squad this season. LeBron leads the team with 27.7 points, 7.7 rebounds, and 7.0 assists this season and might be having his best season of his Hall of Fame career. The Lakers were a rebuilding team before signing James, but he has instantly turned the team into a playoff contender. Expect LeBron to be ready to put on a show in Brooklyn in this game.
The Lakers come into this contest averaging 113.4 points per game this season, making them the ninth-best scoring team in the NBA. Los Angeles has struggled to guard people on the other end of the floor, giving up 111.6 points per game this season. Veteran center JaVale McGee is possibly having the best season of his career, averaging 11.8 points and 2.6 blocks per game. LeBron is obviously the main attraction, but the Lakers have a roster full of young talent.
Lakers Win in Brooklyn
The Brooklyn Nets have started to show some signs of life of late, but this will be a very difficult task for them. The Nets don't have a great defender that they can throw at LeBron, and he should be able to get easy buckets for himself and his teammates. Los Angeles is still looking for more consistent play, but the Lakers will be a dangerous team come playoff time. Bet the Los Angeles Lakers -2.0 over the Brooklyn Nets.