NBA Picks
NBA Pick: Chicago Bulls at Atlanta Hawks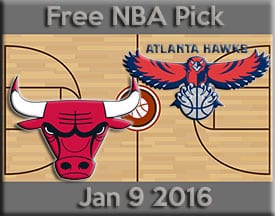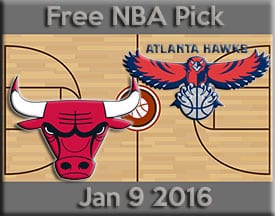 The Chicago Bulls and Atlanta Hawks face off in a heated Eastern Conference clash on Saturday night, in what could possibly be a playoff preview. The two have been trending in somewhat opposite directions of late, with the Hawks lacking the same defensive intensity that gave them the conference's best record a year ago and Jimmy Butler suddenly elevating himself (and the Bulls) to borderline elite status. Let's see which will stick for the moment as we break down Saturday's contest and come away with a winner:
Matchup History
The Hawks and Bulls have faced off plenty in NBA history, with the two colliding 249 total times. Chicago has had the upper hand throughout the series, winning 123 of 227 regular season games and also trumping the Hawks in post-season play (12-10). Atlanta understandably took last year's series (2-1) during their insane run, but the Bulls swept the season series during the 2014-15 NBA season and have won seven of the last nine meetings. Saturday night's game will be in Atlanta, however, where the Bulls have gone just 5-5 in their last 10 tries.
Bulls Preview (+2.5)
Chicago has had some public issues with rookie head coach Fred Hoiberg, their constantly changing rotations and the oft-injured Derrick Rose. Through it all, however, the Bulls have remained one of the better teams in the Eastern Conference and head into ATL on Saturday just three games out of the Central Division lead. Taking down the Cavs won't be easy, but the Bulls are red hot with a six-game winning streak and are finally starting to showcase an elite balanced of steady defense and flowing offense. That's been largely due to the emergence of shooting guard Jimmy Butler, who has responded to coach Hoiberg and put the team on his shoulders. Whether or not that translates into a seventh straight win in Atlanta remains to be determined, but it's been made abundantly clear that this Chicago team is not the same unit it was a year ago. To be clear, that's a good thing.
Atlanta Hawks: Hawks vs. Bulls Pre Game Report #ATLHawks https://t.co/M578CmIkjg pic.twitter.com/GkxWY3LP20

— Hawks Report (@hawks_fanly) January 9, 2016
Hawks Preview (-2.5)
Atlanta has seen an overall dip in play across the board, as sharpshooter Kyle Korver has battled injuries and some rough slumps and stud defensive stopper DeMarre Carroll now resides in Toronto. Korver's slide has negatively impacted Atlanta's once smooth offense, while no Carroll has had their defense lose some serious bite. It shouldn't surprise anyone that they're nowhere near the first place team they were a season ago, as they enter the weekend neck and neck with the Heat for first place in the Southeast Division. Despite their struggles, the Hawks are still a very solid and balanced team and on any given night can take down the toughest of opponents. On Saturday they'll have one of their stiffer tests of the year, when they'll try to take down the Bulls in the first of an intense four-game season series.
The NBA moneyline odds at the WagerWeb site is at -140 for the Atlanta Hawks and with spread Da Bulls are now getting +2.5 points.
The Pick
The big thing the Hawks have going for them is that this game is in Atlanta, where they've been a solid 12-7 on the year. Chicago is actually a very average road team, too (6-7), so it's very easy to see the Hawks leaning on their balanced offense and home crowd to squeak out a big win. That being said, Chicago has been the more impressive team defensively for much of the year and Al Horford has not been the steady defensive presence in the paint we're accustomed to seeing. No Carroll has the Hawks without anyone who can keep tabs on Jimmy Butler, either, while their recent revolving door at the point may even leave a now healthy and seemingly climbing D-Rose unaccounted for.
Chicago is evolving before our eyes and while the Hawks can certainly beat them, I don't think they will. Look for Chicago to claim it's seventh straight in the upset road win.