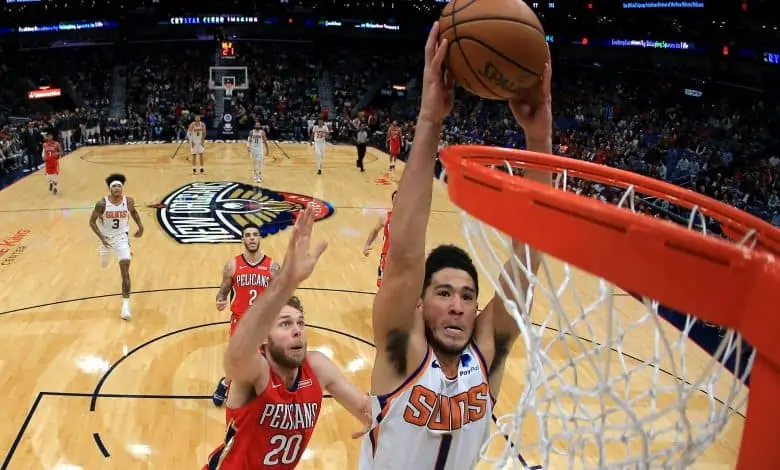 Oddsmakers are expecting a lopsided affair in the November 2nd Pelicans at Suns contest. Despite a 2-3 start, Phoenix is a whopping -11.5 favorite going into Tuesday nights affair mostly because who exactly plays for the Pelicans is uncertain. It's possible New Orleans could be without Brandon Ingram and Devonte Graham, in addition to Zion Williamson still sitting out from offseason foot surgery.
The Suns are playing their third straight home game here, but so far they've lost to Sacramento 110-107 as -8 point favorites and failed to cover the -10 point spread in a 101-92 win over the Cavaliers on Friday night. 59% of public bettors still like the home team on Tuesday night.
Status of Ingram and Graham Important
New Orleans would have a tough time getting the win in Phoenix even if fully healthy, so it doesn't help things much that two of the team's top three scorers are on the injured list for this matchup. Brandon Ingram (25.0 ppg) suffered a hip contusion last Thursday in a 113-109 loss to the Kings and sat out Friday's 123-117 defeat to the Knicks on the back to back.
Devonte Graham (17.9 ppg) played against both the Kings and Knicks, but has his status in jeopardy for the November 2nd Pelicans at Suns pick due to a groin injury. Having had Saturday, Sunday, and Monday idle should help the Pelicans Ingram and/or Graham back for the Suns matchup.
Even if Ingram doesn't play which looks likely, the Pelicans have an inside presence to feed in Jonas Valanciunas who has played great to start the season. The big man that came over from Memphis in the offseason is averaging 19+ points and 14+ rebounds on the year. Nickeil Alexander-Walker is also averaging 14/6 so the Pelicans do have some depth.
Suns Off to an Interesting Start
Phoenix has had a very inconsistent start to the season with a big win at the Lakers but devastating losses to the Nuggets, Trail Blazers, and Kings. The Suns got a big 101-92 win over the Cavs on Friday behind 27 points from Devin Booker, and they can go on a run with Cleveland, New Orleans, Houston, and Atlanta all coming to town on this current 4-game home stand.
Phoenix still couldn't cover the number last time out vs. the Cavaliers, making them 1-4 ATS this season. It doesn't look like that trend will change because the Suns welcome former assistant coach Willie Green back to the Footprint Center on Tuesday night. Green was with Phoenix on their run to the NBA Finals last season before taking the Pelicans gig, it wouldn't seem appropriate to run up the score.
Free November 2nd Pelicans at Suns Pick
It looks like Ingram is out, but Graham is likely to get back in the lineup for New Orleans. The Suns have a force inside in Deandre Ayton that can kind of help to neutralize Valanciunas, but will he be enough to help Phoenix cover the nearly dozen point spread?
Ultimately Pelicans coach Green knows the Suns system, and Phoenix coach Monty Williams isn't going to want to humiliate his former assistant especially as New Orleans plays at less than full strength without Williamson and Ingram. Phoenix isn't going to give New Orleans the win, but they're not going to step on their throats either.
Phoenix 113 – New Orleans 108
Free Pick: Pelicans +11.5