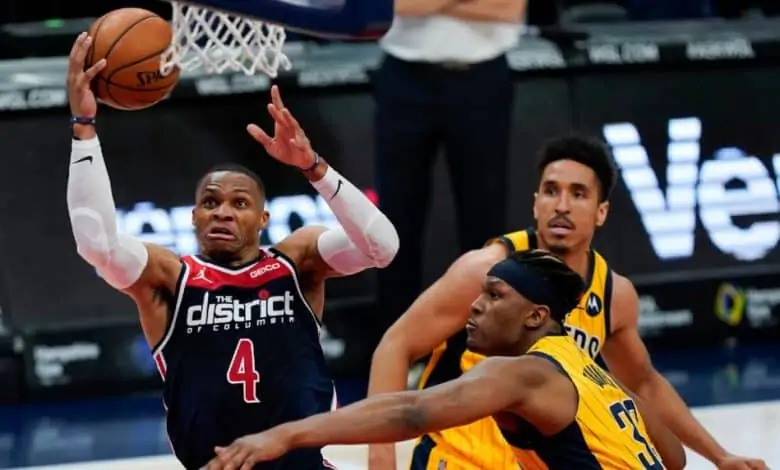 Those who love offensive shows should tune in to the May 8th Wizards at Pacers meeting. These two squads met on Monday, a 154-141 Washington win. The Wiz had 92 points at the half, a big reason they are -3.5 favorites for Saturday's rematch. Does that number raise a red flag 🚩 for being too low?
Indiana does have an impressive 133-126 win over Atlanta with both teams playing on the back to back on Thursday, but there's still a lot to be leery about for this Pacers squad. Just 1/2 a game separates Washington and Indiana for the 9 and 10 seed, the winner of this game getting the edge for home court in what seems like an inevitable matchup in the play-in tournament.
Too Much Westbrook For Pacers?
Russell Westbrook was the driving force behind Washington's 13-point win on Monday, only scoring 14 points but adding 21 rebounds and an astounding 24 assists. Westbrook is an assist shy of seven straight triple-doubles, and has extra motivation on Saturday night as he is just one shy of tying Oscar Robertson's all-time record.
Westbrook's big game on Monday overshadowed some other pretty solid Wizards outings vs. the Pacers. Bradley Beal and Rui Hachimura combined for 53 points, and Washington showed their depth as nine different players scored in double figures. The Pacers have the opposite of depth right now, with Malcolm Brogdon and Myles Turner two starters that are still in danger of missing Saturday's game.
Sure the Wizards scored 154 points on Monday, but they also gave up 141. It's the fourth straight game that Washington has allowed 125+, making them a very dangerous team to go big on. That defense is 30th in the league, giving up 118.5 ppg.
Has Indiana Found Themselves?
It's a very small one game sample size, but the Pacers looked very good in Thursday's 133-126 win over Atlanta on Thursday. Both teams were playing on the back to back in that contest, but the Hawks were playing well with wins over the Bulls, Trail Blazers, and Suns coming into that contest.
Even with some horses like Brogdon and Turner possibly out in the May 8th Wizards at Pacers pick, Indiana has some upside getting +3.5 points. Domantas Sabonis went for 32/19/9 on Monday vs. Washington, hitting for 26+ in three of four since returning from injury.
Look out for Caris LeVert as a game changer in this one as well. Washington ranks 25th defensively vs. the SG position, giving up 33 to LeVert on Monday. The Pacers guard has 25+ in four of the last five, giving Indiana at least the opportunity to keep up with the inevitable big games from Westbrook, Beal, and others.
Free May 8th Wizards at Pacers Pick
It would be easy to go 'over' 248.5 in this one considering the teams combined for 295 points on Monday. In the weird way that the NBA works, this contest could easily end up being 114-109. Indiana knows they can't hang in the up-tempo game, so expect them to slow this one down.
Indiana 117 – Washington 118
Free Pick: Under 248.5