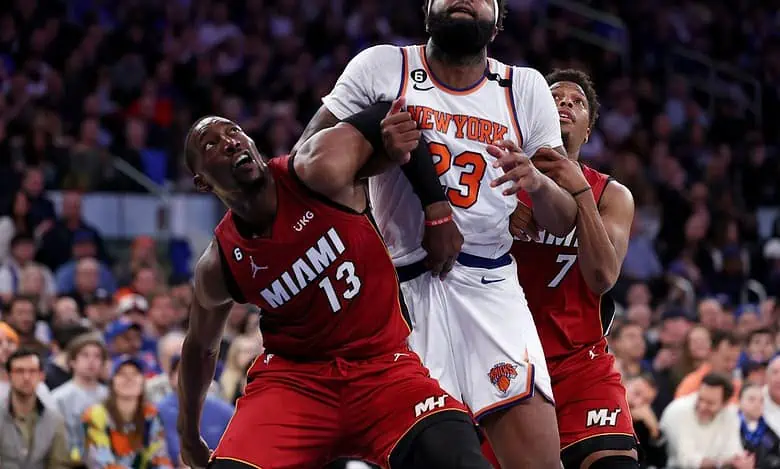 Miami was able to steal home court advantage in their Eastern Conference Semifinals series with New York by getting a 108-101 victory in game on at Madison Square Garden. The Knicks at Heat game 3 betting matchup will give one team the series lead after New York was able to tie things up with a 111-105 win in game two.
Jimmy Butler did not play in game two way back on Tuesday night, so he's had plenty of time to rest his sore ankle prior to the series shifting back to Miami. Butler is still listed as questionable, a big factor in why the Heat are just -4 point favorites on Saturday afternoon.
Why the Knicks Can Cover +4
New York got a win under their belt on Tuesday, a huge confidence booster after letting home court slip away in the series opening loss. Butler had 25 points in Game 1, and is averaging 35.5 ppg these playoffs so if he can't go – or is way less than 100% – that's obviously a huge boost for the Knicks chances here.
New York showed nice balance in Game 2, with Jalen Brunson dropping 30 points, R.J. Barrett adding 24, and Julius Randle returning to the lineup with 25 points, 12 rebounds, and 8 assists. Randle sat out game 1 with a tender ankle, but his return helped New York to claim a 50-39 rebounding advantage.
The long break will help Butler get healthy, but Randle should feel even better himself with some extended time off. Barrett has been great averaging 25.0 ppg this series and Mitchell Robinson had 14 rebounds in game one as New York once again won the battle of the boards albeit in a loss.
Why Miami Can Cover -4
The Heat are back at home where they swept the Bucks last series and are now 30-15 on the season. Most people would assume Butler is back in the lineup for the Knicks at Heat game 3 betting matchup, and his last contest at the Kaseya Center was the impressive 56 point outing vs. Milwaukee in Game 4.
Miami is also without Tyler Herro who injured his hand last round, but they had a variety of players step up on Tuesday on the road. Caleb Martin had 22 and Gabe Vincent 21 as Vincent has gone for 20+ in both games of the series.
There are two players aside from Butler who are the key to game 3 as Miami heads back at home. Kyle Lowry had 18 points and 6 assists in the Game 1 win but had just 6 and went 0-4 from three point range in Tuesday's loss. Bam Adebayo is averaging 15.5/8 the first two games, but needs to be more aggressive on the boards.
Free Knicks at Heat Game 3 Betting Pick
A slight 59% of the betting public likes Miami to cover the -4 back at home. Butler should be back in the lineup but it's also hard to overlook how good the Knicks looked with Randle back on the floor as well. New York is the much better rebounding team in this matchup, and Brunson will get his usual 25+ as well.
Free Pick: Knicks +4