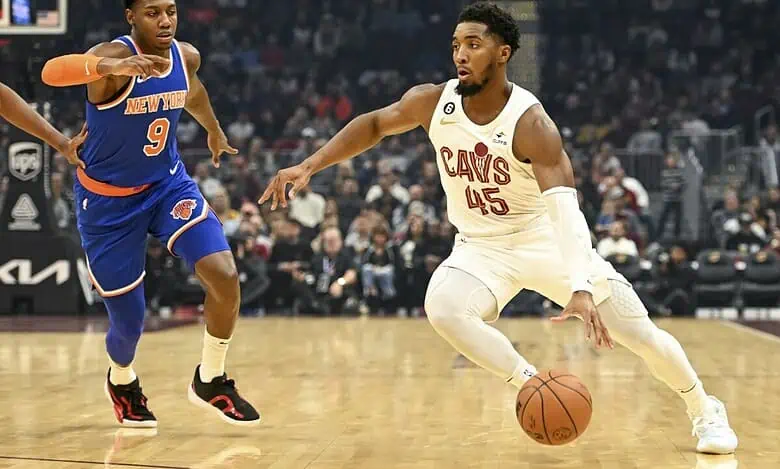 Many people are saying that the New York at Cleveland playoff series could go either way as the #4 and #5 seeds in the Eastern Conference meet up in the first round. That evenness is on display in the Knicks at Cavs game 1 betting odds with Cleveland being a -5.5 favorite even though New York took three of four games head to head this year.
Betting is split nearly 50/50 in Game 1, and both teams came into the postseason with momentum as the Knicks were 5-2 down the stretch while the Cavs won 7 of their last 10. Superstars and storylines will be aplenty this series, but who gets the opener?
Why the Knicks Have Value at +5.5
New York has value at +5.5 because this looks like a line that was set when Julius Randle was questionable, but not adjusted when it was announced that he's eyeing a return for Game 1. Granted there could be some gamesmanship involved, but having Randle and his 25.1 points and 10.0 rebounds in the lineup makes the Knicks a much more formidable opponent.
The Knicks have a better chance of covering this number just because it's a playoff opener, and New York has now gone to the postseason in two of the past three seasons. The Cavs on the other hand are breaking a 4-year absence from the postseason, and are playing in the playoffs on a team that didn't have LeBron James for the first time since 1998.
The Knicks could win this game outright because they've taken 3 of 4 in the series this season, including the last three. That includes a 130-116 Knicks victory a little over two weeks ago at Rocket Mortgage FieldHouse as New York dominated as a +3 point underdog on March 31st even without Randle.
Why the Cavaliers Have Value at -5.5
The two big offseason acquisitions on display in the Knicks at Cavs Game 1 betting matchup are Jalen Brunson (who signed a $104 million contract with New York) and Donovan Mitchell – who cost the Cavs three good young players, three unprotected 1st round draft picks, and two pick swaps. Neither team should have regrets about the moves, as Brunson has averaged 24.0 ppg and Mitchell 28.3 in leading both clubs back to the postseason.
Brunson (48) and Mitchell (42) have a tough encore, as they combined for 90 points in the March 31st Knicks win. One would think Mitchell has a bit more of an edge to him in this game, as he was reportedly being courted by the Knicks before they backed off and let him go to Cleveland. Mitchell wants to prove he is the one that got away in this matchup.
The Cavs lost at home to the Knicks at the end of last month, but they were also 31-10 at Rocket Mortgage FieldHouse this season.
Free Knicks at Cavs Game 1 Betting Pick
This game kind of goes into contrarian territory, because it doesn't seem like the Knicks should be getting +5.5 here. The Cavs are just 2-5 ATS their last 7 home games and New York has covered in five of their last seven trips to Cleveland.
The Cavaliers just seem to have more depth though, especially in the front court with Evan Mobley and Jarrett Allen as well as with Darius Garland and Caris LeVert being capable of breakout games.
Free Pick: Cavaliers -5.5