Free Expert Sports Picks
NBA Picks
NBA Playoffs Free Pick Game 5 Utah at Oklahoma City
Jazz Are In a Surprising Closeout Scenario After Winning Three Straight In The Series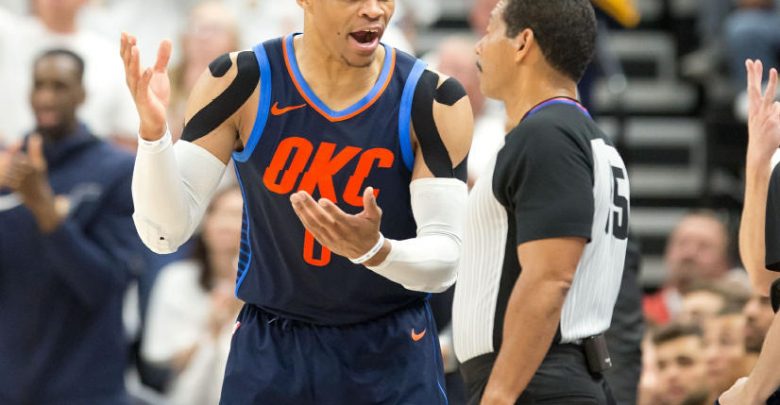 After Game 1 of the Utah/OKC series it looked like a round 2 matchup between the Thunder and the Rockets was inevitable. Oklahoma City won that first game of the series behind huge games from Paul George and Russell Westbrook. Crazy thing happened though, nobody told the Jazz the series was over and they proceeded to win three in a row. Suddenly the April 25th NBA free pick isn't about whether Utah could avoid a sweep – it's if they can end this series in 5 and rest up for their possible matchup with the #1 seed Rockets.
That Sound In the Thunder Players Heads Is Jazz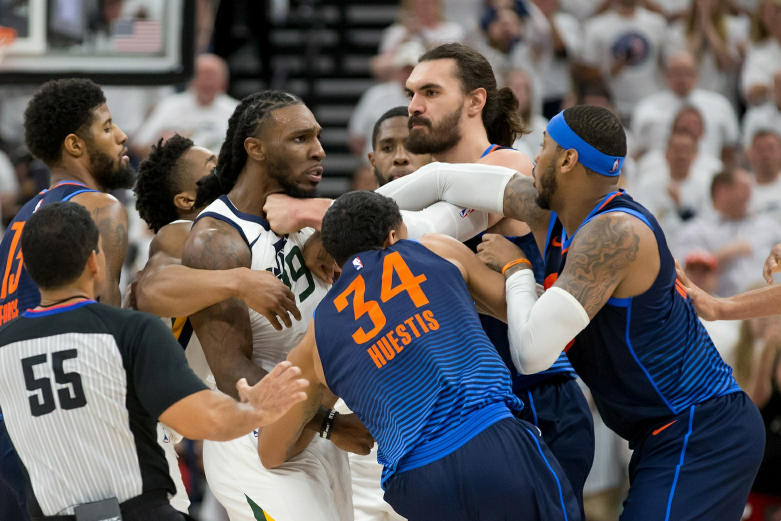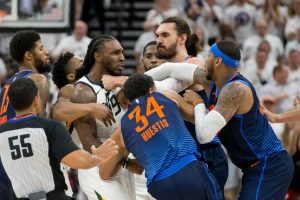 This series features a bunch of big names including Westbrook, George, Carmelo Anthony, Rudy Gobert, etc. For those that don't see a lot of West Coast hoops, perhaps the biggest star in this matchup has been Donovan Mitchell. The Utah shooting guard has three games of 27+ points scoring in the series including a 33 point performance last game that has pushed OKC to the brink. What's even more astounding is that this is the rookie's first ever playoff series and he's playing like a seasoned vet.
While the youngster Mitchell has been impressive, it's Utah's defense that should fuel the April 25th NBA free pick. Rudy Gobert is the likely defensive player of the year and his play as well as Ricky Rubio's out on the perimeter is one of the reason that pundits aren't really viewing this as an upset if the Jazz are able to close out tonight. Oklahoma City had a top dozen scoring offense during the regular season, but the Jazz defenders have kept them under 102 points in each of the last three games.
Can Oklahoma City Rebound From a Chippy Game 4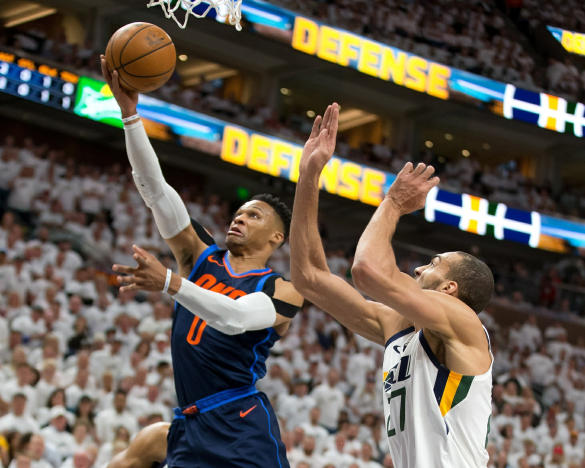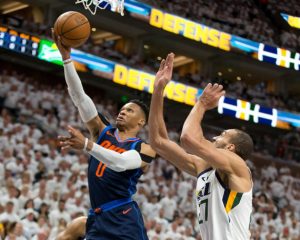 The biggest thing going for Oklahoma City in the April 25th NBA free pick is that they'll be heading back home. Not only that, the crowd could be a little more raucous than you'd expect from a team down 3-1 mostly because of all the extracurriculars that occurred on Monday night. Sportscenter watchers saw Westbrook leaving the bench after Gobert and Raymond Felton got in a tussle. That game also included dual technical fouls from Paul George and Joe Ingles. Jae Crowder was ejected after hitting Steven Adams with an elbow and Wesbrook also tried 'trolling' Ricky Rubio all not but to not much avail. In a nutshell, Game 5 is going to be a fun one.
One thing that OKC must do to get the win is get more production out of Westbrook. He was his usual stellar self in Game 1 with 29 points but since then the outputs have been a relatively modest 19,14, and 23. Paul George has had a great series (two 30 point games) as he heads towards free agency in the offseason (perhaps sooner than he expected). Steven Adams hasn't scored more than double figures in any of the last three games and Carmelo Anthony is nothing more than a role player – on this team at least.
April 25th NBA Free Pick Betting
You have to give some credence to home court tonight as the Thunder are favored by -2.5. 61% of the public like that number but the two teams are playing in the same place where Utah won Game 2 by a score of 102-95. Utah is winning games with a big man in the middle, tough defense on the perimeter, and a budding superstar rookie that doesn't know he's a rookie. OKC has shown that their egos can be combustible, and the Jazz can turn the Thunder players on themselves if they get after it early – which they have the talent to do.
Free Pick: Utah Jazz +2.5