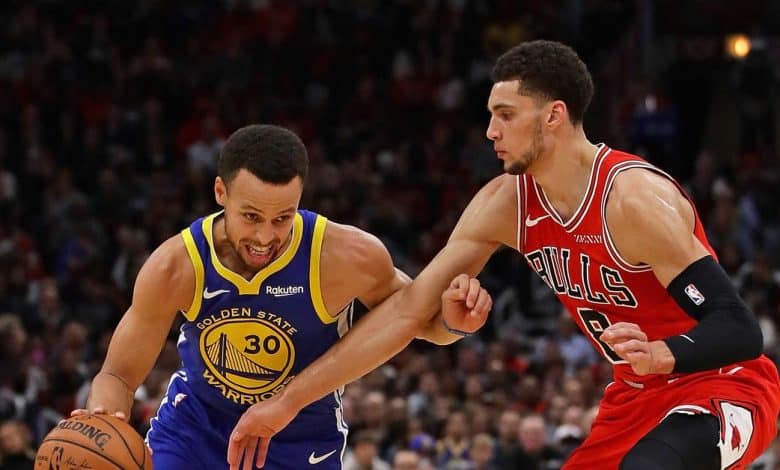 Line movement in the March 29th Bulls at Warriors matchup suggests that Golden State could be getting a (the) key piece back. GSW opened as +4.5 underdogs vs. Chicago, but that has shifted to the Warriors being -2 favorites as Steph Curry (tailbone) has been upgraded to probable. GSW was 1-3 the last four games without Curry.
Does the big line shift to Chicago getting points now give the Bulls the value? Chicago lost 120-104 in San Antonio on Saturday but that was also the debut of Nikola Vucevic. The former Orlando big man now has a game under his belt, and will be up against a Warriors team that ranks 26th defensively vs. the C position. In another very underrated move, Chicago will also be debuting Daniel Theis in this matchup, another physical, energetic presence on the post.
Bulls Post Play a Strength Now?
Vucevic had 21 points and 9 rebounds in his Bulls debut vs. the Spurs on Saturday. He'll get a matchup with rookie James Wiseman tonight which has to favor Chicago. Wiseman didn't play in Orlando's 124-120 win over Golden State last month, but Vucevic torched the Warriors post to the tune of 30 points, 16 rebounds, and 10 assists.
Sure, Curry is back for Golden State but he's also been out nearly two weeks with a bruised tailbone. If Curry does get hot, Zach LaVine is more than capable of going blow for blow as he has hit for 27+ in 3 of the last 6. LaVine struggled a bit vs. the Spurs on Saturday, but the entire Bulls team did. San Antonio made 63% of their shots in the first quarter, and that game was never close.
The addition of Theis is a also a very positive move for Chicago ahead of the March 29th Bulls at Warriors pick. He's the type of high energy guy that Billy Donovan will love. Make no mistake Chicago is very much a mystery and probably will be for the next 3-4 games until everybody is comfortable with each other, but there is upside.
Warriors a Different Team With Curry?
Curry is obviously a great scorer, and the Warriors will definitely take his 29.0 ppg in the lineup vs. Chicago. He also makes people around him better, most notably Draymond Green. Green's production has dipped in the four games that Curry has missed. Green had double digit assists and rebounds in 3 of the 4 games prior to Curry's injury.
The Warriors should also be rested, having had two nights off following their 124-108 loss to Atlanta on Friday. Wiseman had 18 points in that game, and could be a key contributor vs. the Bulls. Chicago's post defense is supposed to be improved with Vucevic, but they gave up 20 points and 9 boards to the Spurs' Jakob Poeltl on Saturday.
Then again, Wiseman's and the post defense may end up being what costs Golden State this game. Atlanta got a combined 56 points and 27 rebounds from Atlanta starters Clint Capela and John Collins on the blocks.
Free March 29th Bulls at Warriors Pick
The line has really swung Golden State's way, but Chicago should be much improved from their loss to the Spurs on Saturday. Curry will be a bit rusty after almost two weeks off. The GSW defense has allowed 132 ppg the last two.
Chicago 122 – Warriors 115
Free Pick: Bulls +2