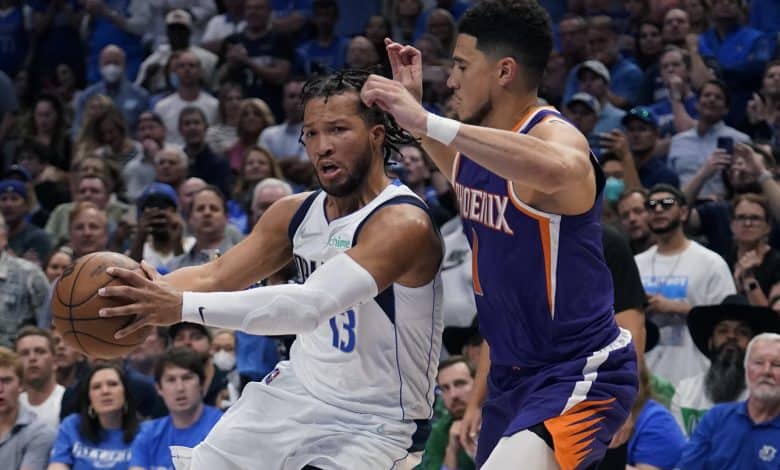 Dallas has done their part so far coming into the Suns at Mavericks game 4 betting matchup. The Mavs fell down 0-2 after dropping the first two in Phoenix, but stayed alive with a 103-94 victory to make this series 2-1. If Dallas can defend their home court one more time things can be tied up 2-2 before heading back to the Footprint Center.
The big question is was Phoenix' poor play on Friday an anomaly, or because they were on the road and Dallas has a really good defense? The Mavericks are now 32-13 at home this season, but the Suns have been just as solid on the road at 32-11. Oddsmakers still like Phoenix as a -2 point favorite, and the public is hammering them at about 80%.
Bad Games Happen
Phoenix had looked really good in the first two games of this series, collecting 121-114 and 129-109 wins. That offense was nowhere to be found on Friday though with Jae Crowder actually being the leading scorer with 19 points in the 103-94 loss.
The Suns still shot 45% from the floor and 46% from three on Friday, but that shows you how hot they were in Game 2 hitting 49-76 (64%) in FGs and 51% from beyond the arc. Chris Paul (28) and Devin Booker (30) combined for 58 points in Game 2, but were held to a combined 30 in Friday's loss.
Paul was especially sloppy with 7 turnovers in the first half alone while Booker was just contained as he was just 6-13 from the floor. Dallas has also done a good job of taking Deandre Ayton out of the equation. The Phoenix big man had 25 points and 8 rebounds in the opener, but has 9/3 and 16/11 the last two.
Dallas Defense Finally Arrives
Maybe it was just the momentum of playing in front of their home crowd or the result of finally getting familiar with Phoenix, but the Mavs finally got their defense right in Game 3. That wasn't just a good game, this is a good unit that was 7th in the regular season in efficiency but also allowed the second fewest points per game (104.5).
Another thing that showed up on Friday night was some secondary scoring aside from Luka Doncic. Jalen Brunson proved to be the x-factor in the win with 28 points after averaging just 11.0 the first two. Randy Bullock led a trio of other players (besides Doncic) with at least 14 points.
Another positive for Dallas in the Suns at Mavericks game 4 betting meeting is that Phoenix doesn't seem to have an answer defensively against Doncic. He just missed a triple-double with 45/12/8 in the opener and followed that up with 35/5/7 to average 40 ppg in the two games in Phoenix. Doncic had another 28 on Friday but Dallas was much better when have other players contribute as well.
Free May 8th Suns at Mavericks Game 4 Betting Pick
Public bettors absolutely love the Suns on Sunday but is that just because they were the #1 seed during the regular season? The Mavericks are pretty good at home and have had the most dominant player in the series so far – not to mention that defense can be very stifling and a better game from Paul and Booker is not guaranteed.
Pick: Dallas +2