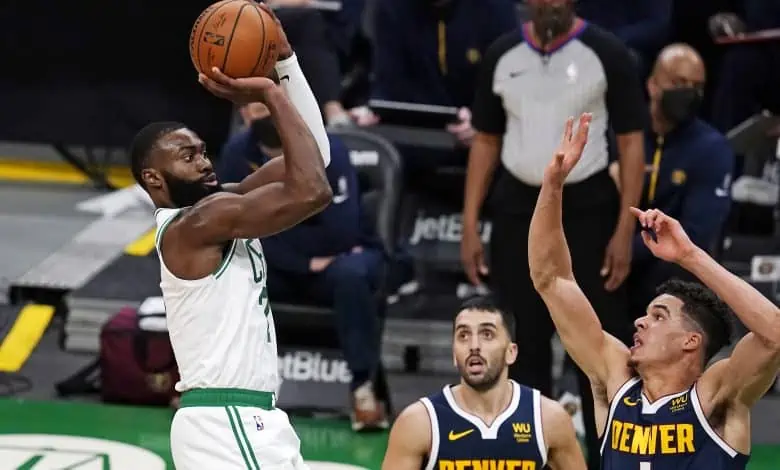 The February 11th Nuggets at Celtics betting matchup features a couple of teams that are playing well recently. Denver was silent at the trade deadline, but Boston shored up their interior defense by reacquiring Daniel Theis and also brought in what they hope is some consistent scoring in Derrick White. Neither of those players are likely available on Friday, so the C's could be a bit shorthanded after shipping out Dennis Schroder, Josh Richardson, and Enes Freedom.
Denver went 4-2 on their most recent road trip, and are leaving the Rocky Mountains once again after going 2-1 over a recent home stand. The Nuggets' last two victories have been dominant – by 20 against the Nets and 17 vs. the Knicks. Boston has rattled off six in a row though, which is why the Celtics are -6 point favorites in this spot.
Denver Finding Depth?
It could be because the Nuggets have blown out their last two opponents, but coach Mike Malone has to like the depth that his team has shown the last two games. Seven Denver players scored in double figures In the 20-point win over Brooklyn on Sunday, with Will Barton having 21 points and Aaron Gordon 17. That depth was on display Tuesday in a 132-117 win over the Knicks with Gordon (19), Barton (20), Bones Hyland (22), and Jamychal Green (20) all having great production.
The reason why Denver getting consistent production from their role players would be huge is because they have arguably the greatest building block in the league in Nikola Jokic. The big man recently had a 27/12/10 triple double in just 29 minutes of court time against the Nets and then had 21/11/7 in 30 minutes vs. the Knicks.
Jokic should be able to have a big night in the February 11th Nuggets at Celtics matchup the way Boston has been getting owned on the boards by opposing bigs. Over the last four games the Celtics have allowed 17 rebounds to Miles Plumlee and Isaiah Stewart as well as a 10 rebound game against Mo Bamba.
Boston Playing Well
The Celtics have won 8 of their last 9 including six in a row, and lately they are really finding out how to win as a team. Jaylen Brown has scored 22+ in 7 of the last 10 games, but Boston has also won when he had just 15 against the Hornets (113-107) and 13 vs. the Pistons (103-92).
With Brown not having the huge scoring games as of late, you'd assume it's been Jayson Tatum tearing things up. That's not the case either though as he's been held to 20 points or less in three of the last four – all Boston wins. What makes Boston so dangerous is that Tatum can explode too as evidenced by a stretch in late January when he had 36+ points in three of four including 51 in a 116-87 win over Washington.
So who is stepping up for Boston? Marcus Smart gets the full-time reins as the point guard with the Schroder trade and he's gone for 22+ in two of the last four. Robert Williams has double-digit rebounds in five of the last eight, and he'll need to be productive on the boards in a matchup with Jokic.
Free February 11th Nuggets at Celtics Pick
Boston has been playing well, but Denver was very good on their most recent road trip and have their surrounding players with solid momentum right now. Jokic is going to dominate the boards, and Boston being a bit shorthanded in their depth is going to be their downfall.
Denver 115 – Boston 106
Free Pick: Nuggets +6