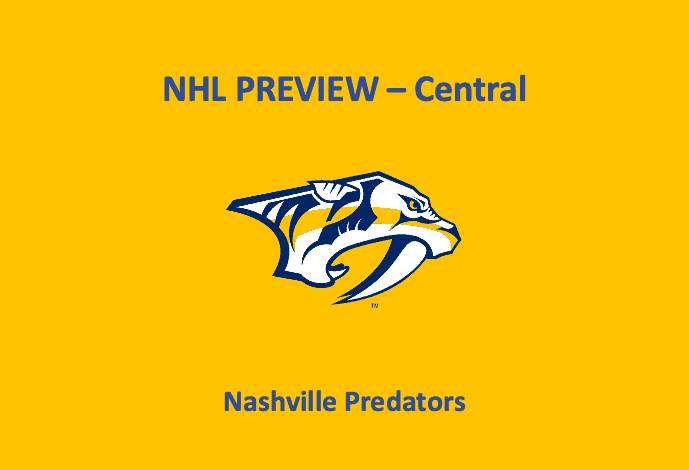 Nashville finished the 2019-2020 regular season with a 35-26-8 record. Their 78 points placed them fifth in the Central Division. They matched up against the Arizona Coyotes in the qualifying round for the Playoffs but were defeated in four games. Our Nashville Predators preview 2021 looks to see whether they can return to the playoffs after failing to clinch a spot last year.
Nashville Predators Preview 2021 – Forwards
The Predators have a pretty decent top-six forward group. Filip Forsberg returns as the team's leader in goals. He potted 21 while leading all Nashville forwards with 48 points. He will play on a line with Ryan Johansen and Viktor Arvidsson. Johansen had 14 goals and 22 assists last season. Arvidsson had 15 goals and 28 assists.
Nashville's second line will feature Matt Duchene along with two newcomers. Duchene had 42 points in 66 games last season. The dynamic center will work with Erik Haula and Luke Kunin on his wings. Haula split time between the Carolina Hurricanes and Florida Panther last year. He had 12 goals and 12 assists. Kunin, Minnesota's first round pick from 2015 had a very solid 2019-2020 campaign. He set a career high in both goals and points with 15 and 31 respectively. The 23-year-old has plenty of upside and could have a breakout season playing with Duchene.
The club will also rely upon Mikael Granlund to generate offense this season. While he is slated to have a late start to the year due to COVID related immigration issues, he is likely to see plenty of ice time when he is able to suit up. Granlund had 17 goals last year along with 30 points.
Nashville Predators Preview 2021 – Defense
Norris Trophy winner Roman Josi will headline a very strong Nashville blueline. Josi earned his first award for being the top defenseman in the NHL after putting together a 65 points campaign. This point total led all Predators. He was also extremely effective in his own end, something that people have been critical of in years passed. The Swiss D-man played 25:47 minutes per game while maintaining a +22 plus-minus rating. Josi will be heavily relied upon to not only be effective in his own end, but also contribute offensively.
Ryan Ellis, Mattias Ekholm, and Dante Fabbro will all be critical players for the Predators too. Ellis and Ekholm will see a tremendous amount of ice time along with Josi. Both played over 23 minutes per game last year while producing over 30 points. Ellis finished with a +16 plus-minus and 38 points. Ekholm had 33 points on the year. Fabbro made an impact in his first full NHL season. Last year the rookie saw 19:02 minutes of ice time per game while adding 11 points. He could use some work in his own end, but is very likely to improve in his second NHL season.
Nashville Goaltending
Nashville is set up for pretty well in net for the condensed season. They have two very capable goaltenders in Juuse Saros and Pekka Rinne who are likely to split the season evenly. Saros and Rinne started 34 and 35 games respectively last year. The Predators have made it clear that they are ready to roll forward with Saros as their starter, but both should see about equal time in the crease due to the amount of back-to-back games this year.
Saros looked more impressive than Rinne in 2019-2020 despite starting one less game. He finished the year with a .914 save percentage and a 2.70 GAA. Rinne had a poor .895 save percentage and 3.17 GAA but has historically bounced back after his less than stellar seasons. Look for him to bounce back in 2021.
Nashville Predators Preview 2021: Outlook
Our Nashville Predators preview 2021 notes that the Preds look to be a very good team defensively. Despite this, they will need to generate more offense this season if they are going to make the playoffs. The Predators are likely to be a middling team in the Central Division this year and are far from a sure bet to clinch a playoff berth.
Nashville Predators Preview 2021: Prediction
Record: 22-26-8, 52 points
Finish: 6th in the Central Division