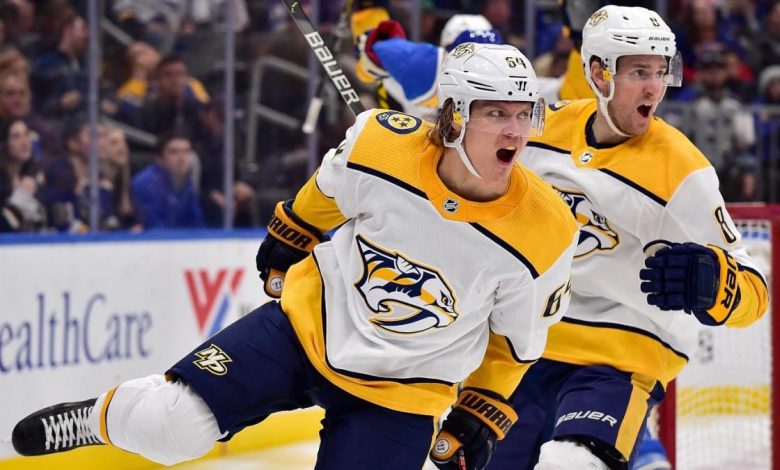 Two Central Division foes meet Friday night in the Windy City, as the Nashville Predators (29-23-7) visit the Chicago Blackhawks (26-26-8). Nashville got the better of Chicago 5-2 in early January, while the previous two matchups were split.
Here is a preview for tonight's matchup, along with odds and a free pick.
By the Numbers
The Predators recently won three games in a row, two of which against the defending champion Blues, as part of six wins in nine games. However, their win streak was snapped on Tuesday in a 4-1 home loss to the Hurricanes.
This season, Nashville has snuck into the top 10 in goals scored with 3.19, ranking fifth with 33 shots per game to boot. However, their 9.7 shooting percentage is right around the middle of the pack, while their 16.4 power-play percentage is just 23rd.
Nashville's defense and goaltending, long-known to be their specialty, has suffered greatly this year. The Predators allow 3.19 goals, 24th in hockey, on 30.5 shots per contest. But it's their league-worst penalty kill of 74.1 percent that is currently keeping them out of a playoff spot.
The Blackhawks are sputtering, where a surprise 8-4 win against the Flames is their only regulation win post-All-Star break. This month, they have seven losses in nine games, their latest a 6-3 loss Wednesday to the Rangers in which they allowed five goals in the third period.
Chicago is 19th in goals per game with 2.93, averaging 31.6 shots, which ranks just inside the top half. They also have a 19th-ranked shooting percentage of 9.3, but sit dead last on the power play, converting just 13.8 percent of the time.
Defensively, the Hawks are allowing an average of 3.17 goals, 22nd in the NHL. However, their 35.3 shots allowed are the most in the league. But they're able to salvage those a little bit with the 12th-ranked penalty kill of 81.6 percent.
Who to Watch
Nashville has been aided greatly as of late by veteran forward Mikael Granlund. After a slow start to the season, Granlund has heated up to the tune of seven goals and three assists in his last 14 games.
Now up to 14 goals and 11 assists total, Granlund continues to succeed on the first line and should be worth keeping an eye on tonight.
Defenseman Roman Josi is the lifeblood of this Nashville team. The captain had nine assists in his first 10 games after the All-Star break, giving him 43 total helpers on the season to go along with 14 goals.
The Predators will also get a massive boost to their defense tonight if Ryan Ellis is able to return. Ellis, who's paired with Josi along the blue line, has been out since the Winter Classic on New Year's Day after taking an elbow to the head.
Even though his point streak reset, Patrick Kane is still finding ways to impact the stat sheet. During his now three-game point streak, Kane has a pair of goals and four assists, bringing his season totals to 27 goals and 48 assists.
While it's doubtful the Blackhawks will find themselves in the playoffs, Kane will very likely continue to put up outstanding numbers.
Along with Kane, watch for Jonathan Toews and Dominik Kubalik tonight. Toews, the longtime captain of the Blackhawks, also has a three-game point streak in the works with a goal and five assists. He now has 16 scores and 36 helpers overall.
Meanwhile, Kubalik scored twice Wednesday against the Rangers and now trails Kane by just two goals for the team lead. As he continues to get first-line time, he's a threat to find the back of the net.
Goalies
Nashville will likely turn to Pekka Rinne tonight. The veteran Rinne has struggled, going 18-13-3 with a 3.04 GAA and .898 save percentage.
Chicago is expected to counter with Robin Lehner. In his first year with the Hawks, Lehner is 16-10-5 with a 3.01 GAA, but a .918 save percentage.
Odds and Pick
In a tough matchup for two teams itching to get into the postseason, the Predators are slight favorites on the road tonight, listed at -125. They've been better on the road this year than at home, going 16-11-3, while the Blackhawks are 12-13-4 at the United Center.
I think tonight has the potential to be very close. I like the consistency of Chicago's offense, but the possible addition of Ellis will give Nashville a big boost.
I'll give the slight edge to Lehner in net, and if they're able to keep him from facing an exorbitant amount of shots, I think the Hawks pull off the upset. Give me the Blackhawks +105 at home tonight.