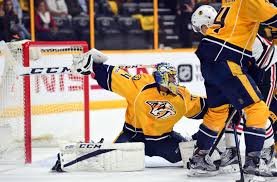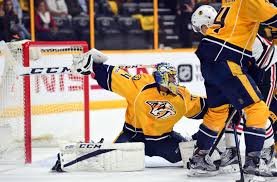 The second of three Stanley Cup games on the schedule for Thursday night will face off at 8:00 p.m. That contest will feature the Nashville Predators (41-29-12) against the Chicago Blackhawks (50-23-9). The Predators were the second wild card in the West and ended the season with 94 points. Chicago was first in the Central Division with 108 points. The Blackhawks lost one of the five games they played against the Predators. That was their first game of the 2016-17 season. Our Nashville plays Chicago Stanley Cup free pick sees the Blackhawks as dominating the Predators.
Nashville Predators Keys
When you talk about NHL teams that are average think about Nashville. They are 11th in average goals scored with 2.9 PG, 15th in goals against average with 2.7 PG, 16th on the power play at 18.9% and 15th on the PK at 80.9%.
Center Ryan Johansen and RW Viktor Arvidsson have both accumulated 63 points. Johansen has 47 assists and 14 goals, while Arvidsson has just about split those two stats 31-30. Johansen has 19 PP assists and Arvidsson has a plus/minus of +16. Like Arvidsson, center Filip Forsberg has notched 31 goals. His 58 points include 27 assists. Defenseman Ryan Ellis, who's playing injured, is tops on plus/minus at +17.
Chicago Blackhawks Keys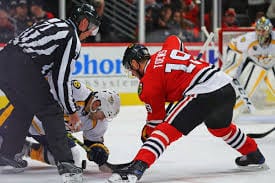 When you consider the Blackhawks and look at their stats you have to think that this is an uneven team. This club is ninth in average points scored per game with 2.9 and 11th on goals against with 2.6. Their power play is ranked 19th as they are scoring 18.0% of the time while their penalty kill is 24th and at 77.7%.
Wingman Patrick Kane leads tops the team in goals with 34, assists with 55and points at 89. He's got 16 power play assists and seven goals. On LW Artemi Panarin has a plus/minus of +18, has notched 74 points, and has accumulated nine PP scores. Duncan Keith is at +22, has 13 power plays assists and 47 overall assists.
Goaltending Edge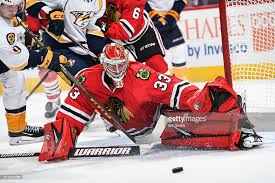 Pekka Rinne who saved 34 in Nashville's 2-1 loss to the Jets is a sound goaltender. His GAA is 2.42 and his save percentage is at .918. Chicago's Corey Crawford (32-18-4) comes to the ice with a GAA of 2.55 and save rate of .918. He'll need to be on and focused against a dangerous Predator team. Four days ago, he had a solid 3-2 win in OT versus the Kings where he stopped 23 shots.
Nashville Plays Chicago Stanley Cup Free Pick
Our Nashville plays Chicago Stanley Cup free pick is leaning heavily to the Blackhawks who outscored Nashville in their five games 18-10. In some ways, the Predators hold an edge but it's simply not that big of one. We are taking the Blackhawks in five.
Nashville Plays Chicago Stanley Cup Free Pick: Chicago in five