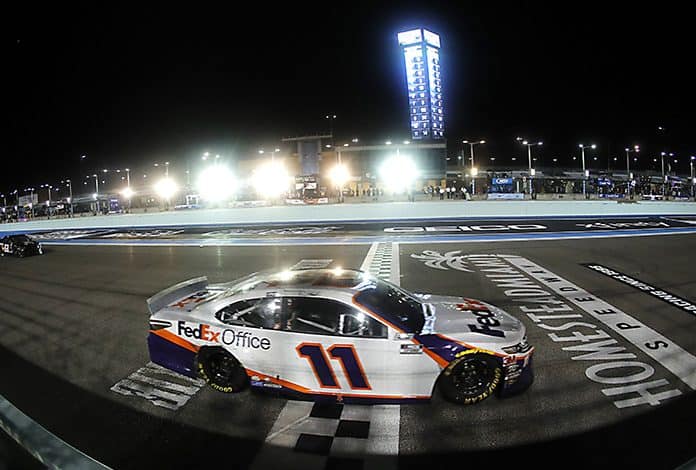 A couple of long shots have posted wins through two weeks on the NASCAR circuit. Michael McDowell captured the Daytona 500 with 66:1 odds and Christopher Bell won at the Daytona Road Course at 50:1. The Cup Series shifts to Homestead-Miami for Dixie Vodka 400 betting.
Denny Hamlin is Sunday's favorite at 5:1 starting out of the pole and shooting to defend last year's win in this race. Kyle Busch (10-1) has two wins at Miami and Joey Logano (11:1) had two wins at 1.5 mile tracks last season. This one looks like Hamlin's to win, but it's been a wild start to the season thus far.
Denny Hamlin +500
There are very few sure things in NASCAR, but Denny Hamlin in Florida is about the closest thing. 5:1 still isn't bad value for #11 Toyota to capture the checkered flag, as Hamlin can set the all-time record for victories at Miami with a win.
Hamlin has finished 5th or better in six straight points paying races in Miami, including the win last year in which he led 137 laps. Hamlin finished 5th at the Daytona 500 and 3rd in the road course race last week.
Pick: Hamlin to win 5:1
Tyler Reddick +20000
Not much oddsmaker love for Tyler Reddick, who had a race leading 48 fastest laps in last year's Dixie Vodka 400 betting, en route to a 4th place finish. Reddick has had his share of struggles this year finishing 27th and 38th, Reddick clinched his two Xfinity titles with wins at Miami-Homestead in the season finale.
Pick: Tyler Reddick Top 3 Finish +500
Martin Truex, Jr. (-130) vs. Kevin Harvick
Truex, jr. hasn't finished better than 12th this year, even in the two clash races. If the #19 Toyota is going to experience a turnaround Miami-Homestead would seem to be the place to do. In the last four years here Truex, Jr. has three finishes in the top 2. He was 12th last year, but did get as high as 3rd.
Kevin Harvick has also had a lot of success at Miami-Homestead, winning in 2014 to kick off a run of six straight top 5 finishes. Harvick finished 4th in the Daytona 500 and 6th at the road course, giving him great value in this matchup at even odds.
Pick: Kevin Harvick EVEN
Christopher Bell (-125) vs. William Byron
Bell only led 5 laps last week, but he turned it on when he needed to in edging out Joey Logano for a win at the Daytona Road Course. It was a second straight strong showing to start the season, as Bell only finished 16th at the Daytona 500 but did lead 32 laps. Bell finished 8th at Miami in last season's race.
Bell seems to have a great matchup with William Bryon for Dixie Vodka 400 betting. Byron was 26th in the Daytona 500, and came in 33rd at the road course last week. He did finish 9th at Miami last year, but came in 39th and 24th the two years prior. Bell seems well worth laying a little here.
Pick: Christopher Bell -125
Dixie Vodka 400 Betting
Hamlin has a superior chance of bringing home this checkered flags but there's also plenty of other betting options for Sunday's race.