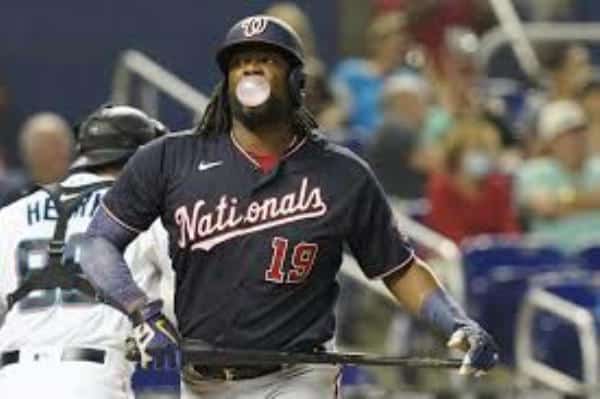 The September 22nd Nationals at Marlins matchup is far from having any playoff implications, but it's still an interesting game to wager on with such a close line. The two teams have split the series so far, with Washington losing 8-7 Monday as -110 favorites but then cashing in 7-1 on Tuesday as +128 underdogs.
The fact that Washington has put up 14 runs the last two games would make them the play in the series finale especially as +110 underdogs. The fact that the Marlins are favored would seem to give them the pitching edge, but Elieser Hernandez (1-2, 3.80 ERA) has been good but not great lately. That being said the Nationals have dropped five straight Josiah Gray (0-2, 6.24 ERA) starts.
Nats' Offense Solid This Week
It's somewhat astonishing that Washington has scored 7 runs in each of the first two games of this series and are still heading into the September 22nd Nationals at Marlins matchup in a rubber match situation. Both of the first two games have gone 'over' the total as Washington has belted out 21 hits over the last two nights.
Scoring runs against the Marlins lately is nothing new for Washington, who lost two of three at home to Miami last week despite plating 14 total in last Tuesday and Wednesday's matchups. The Nationals have had a pretty good week of offense despite hitting just 3 HR over that span, 2 from Lane Thomas and one from Juan Soto.
Washington is 10-8 vs. Miami this season, but it's going to be tough to add to that mark with Josiah Gray on the hill. The youngster that came over in the Max Scherzer trade has hit a rookie wall, giving up 22 runs over his last four games. Gray's last good outing was allowing 2 ER over 6.0 IP in a 4-3 loss to these Marlins on August 25th.
Marlins Offense Shaky
Washington has scored 14 runs the past two games in South Beach, but that's not really an anomaly considering they've plated 6+ in 7 of the last 10. Miami on the other hand has not had that type of output at the plate recently, being held to just 5 hits on Tuesday, and scoring 3 runs or less in 9 of their last 13.
Some recent struggles at the plate doesn't mean the Marlins can't bust out at any given moment as evidenced by their 8-7 win over Washington on Monday as +102 underdogs. Jazz Chisholm hit 2 HR in that game and Jesus Sanchez added another. That's a trend that should continue against Washington's rookie pitcher Gray who has served up 14 HRs in his 9 starts with Washington.
Elieser Hernandez makes his 9th start of the season for Miami, flip-flopping wins and losses in six starts since his return to the club on August 15th. Those alternating wins and losses do bode well for Hernandez coming off a 2-1 defeat to Pittsburgh his last time out. Hernandez allowed 2 ER over 5 IP against Washington in a 7-5 Marlins win on August 26th as -115 favorites.
September 22nd Nationals at Marlins Pick
There's a lot to like about Washington here – their offense that is. The Nats' are hitting at a pretty solid clip right now but will it be enough to overcome another potential rough outing from Josiah Gray? Washington should be able to get their 5-6 runs, but Gray is going to allow his 4+ before turning things over to the bullpen making the total the play in this contest.
Nationals 6 – Marlins 7
Free Pick: OVER 8