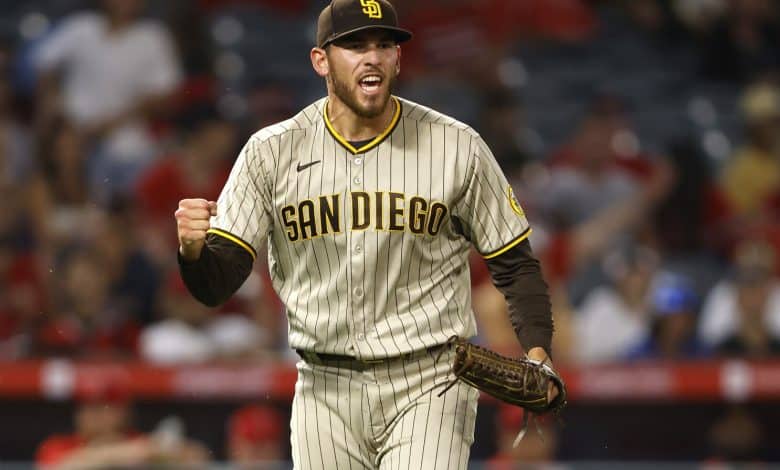 A long road trip continues for Philadelphia ahead of the June 23rd Phillies at Padres betting matchup. Rob Thomson's club is at Petco Park for a four game weekend series that will wrap up a 10-day road trip. Things started off well for the Phils' with four straight wins, but they've slipped up a bit in the midst of a three game losing streak.
San Diego is trending in the opposite direction, winners of three straight as they are back at home. The Padres welcome back some big names from the COVID list, as manager Bob Melvin was back in the dugout on Wednesday and Joe Musgrove (8-0, 1.59 ERA) starts for the first time in a week. SD is a -161 favorite in game one.
Phillies Try to Stop the Skid
Philadelphia has turned things around a bit going 15-5 in June. They are playing their worst baseball in the past few weeks as of late though, losing to Washington 9-3 on Sunday as -156 favorites and then dropping a pair in Arlington 0-7 (+121) and 2-4 (-140).
Philadelphia's only hope for the June 23rd Phillies at Padres betting contest is that Musgrove is a little rusty after being off since last Thursday due landing on the COVID-injured list. If the Padres right-hander is full strength (as the -161 SD line would indicate) Philadelphia may see some similar offensive struggles as they've been held to six hits or less in three straight games. Bryce Harper did return from an infected blister on Wednesday, going 1-3.
Ranger Suarez (5-4, 4.43 ERA) is on the hill for the Phillies on Thursday night and the good news is that he likely won't have to face Manny Machado who has missed the last three games with an ankle injury. Suarez is in a nice stretch of 2ER allowed in three straight starts, but Philadelphia has also lost in four of his last five outings.
Musgrove Tries to Pick Things Back Up
The worst case scenario for Philadelphia ahead of the series opener is that Musgrove is rested after a couple extra days off and he will be even better than he has been. It's hard to be much better though, as San Diego has won in 11 of Musgrove's 12 starts this season and he's allowed 3 total runs in his last 5 starts.
There's a really good chance that another Phillies vs. Padres matchup ends in a shutout if Musgrove returns to form. That was the case in all three games when these two teams met up from May 17th to 19th at Citizens Bank Park. San Diego took a 3-0 and a 2-0 win while the Phillies got the sandwich game 3-0.
Machado is questionable with his sprained ankle but it seems highly unlikely that he will play on Thursday night. Even without their potential MVP candidate San Diego was able to pump out 16 hits and 10 runs in Wednesday's 10-4 win over Arizona as -164 favorites. Jurickson Profar went 4-4 at leadoff while Jose Azocar had a 3-5 day from the #8 spot as the Padres showed nice production from 1-9.
Free September 23rd Phillies at Padres Betting Pick
No need to overthink this one. The Phillies are struggling a bit at the plate while Musgrove returns with a couple extra days rest while looking to stay undefeated on the season.
Free Pick: Padres -1.5 (+135)