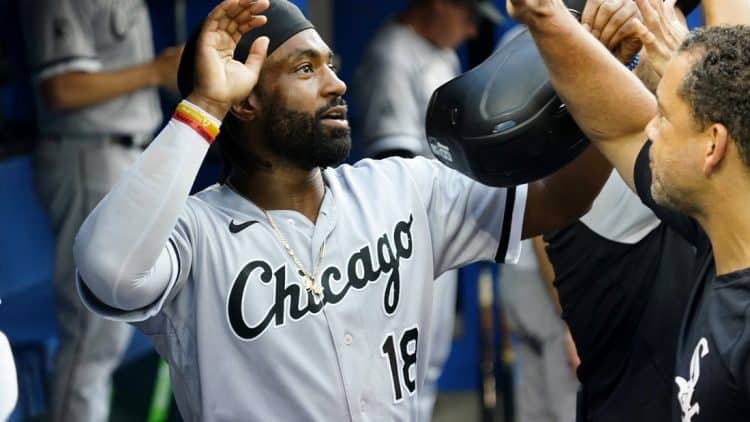 Chicago welcomes back one of their key pitchers in the August 26th White Sox at Blue Jays matchup. Carlos Rodon is back for his first start since August 8th, but he's been on the I.L with shoulder fatigue. Can we trust that he left-hander is healthy, with Chicago at -108 for Thursday's tilt?
Toronto (-111) has taken two of three from first place Chicago this week, keeping faint playoff hopes alive at 4.5 games back for the second wild card spot. This feels like a 4-game split though, especially as the Blue Jays have alternated wins and losses over the last six games.
Sox Struggling With Contact
Chicago has a loaded offense (top 10 in runs/game, BA, OPS) but they're a little banged up and that has shown lately. The Sox have been held to 1 run or less in three of the last four, and struck out 16 times in Wednesday's 3-1 loss as +104 underdogs.
Chicago has been the underdog in all three games this series, also falling 2-1 in the opener at +107. The White Sox offense did break out a bit in the 5-2 game 2 win, thanks mostly to Jose Abreu who was 3 for 5 with 4 RBI. Chicago did get leadoff man Tim Anderson back on Wednesday after missing four games with leg soreness, but he was 0 for 4 with 2 K's in his return.
Carlos Rodon (9-5, 2.38 ERA) is back in the rotation and will likely go a maximum of five innings as he embarks on a load management plan. Rodon was on the IL with shoulder fatigue, but he didn't look to have any problems in his last start, going 5.0 IP giving up 2 hits and striking out 11 in a win over the Cubs on August 7th.
Another Strong Pitching Performance from Toronto?
Robbie Ray was on fire on Wednesday night, going 7.0 innings while giving up just 1 ER and striking out 14 Sox batters. Alek Manoah also gave up just a single run in the opener, so Hyun-Jin Ryu (12-6, 3.54 ERA) has a tough act to follow in the August 26th White Sox at Blue Jays meeting.
Ryu threw 7.0 innings of shut out ball in his last start, but he did have a couple rough outings prior to that. The lefty gave up 4 ER on just 3 hits to the Mariners, the big blow coming on a 3-run HR. In the start before that though, Ryu gave up a season high 7 ER although Toronto did come back to beat Boston 9-8. Overall the Blue Jays have won 10 of the Southpaws last 12 starts.
The Blue Jays offense hasn't been the sharpest this series either, as they've scored just 7 runs in the three games. That's been good enough for two out of three wins though, and they'll get to see a lot of the Chicago bullpen on Thursday afternoon.
August 26th White Sox at Blue Jays Pick
These are two quality teams and the price is good on both of them. Toronto hasn't won two games in a row since August 10th and 11th, but that slump ends here.
Blue Jays 5 – White Sox 3
Free Pick: Blue Jays -111