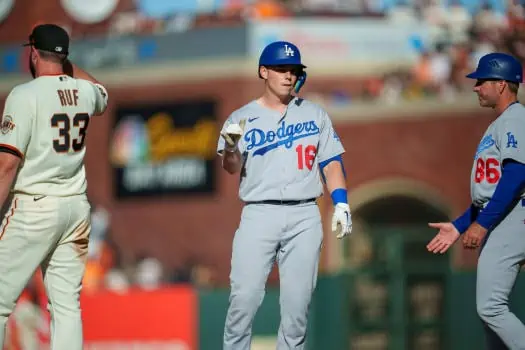 San Francisco aims for the sweep over their division rivals heading into the June 12th Dodgers at Giants betting matchup but it's looking like runs are going to be at a premium for the second straight day at Oracle Park.
The Giants were able to pull out a 3-2 win on Saturday at +174 to follow up their 7-2 victory in the series opener to cash out at +149. That has helped San Francisco move to within 4.5 games of L.A in the NL West, but oddsmakers have wised up in making the Giants just a +125 underdog in the finale while the Julio Urias vs. Carlos Rodon pitching matchup has a total of just 8.
L.A Not Getting the Timely Hit
The Dodgers managed 13 hits on Saturday but were able to produce just 2 runs out of that. They were 2-10 with runners in scoring position and had 14 men LOB. That's now just 4 runs total scored over this series for the #1 offense in MLB (5.24 runs/game) after managing just 2 runs on 6 hits in Friday's series opener.
L.A. has now dropped 8 of their last 12 games and have just a 1/2 a game lead over the Padres in the NL West. That's kind of a surprising stretch consider the Dodgers are getting some solid performances as of late. Gavin Lux is hitting .563 over the past week while Will Smith and Trea Turner are both batting above .300 over that span.
It's up for Urias (3-5, 2.78 ERA) to take on an even more important role in the rotation upon L.A. getting the news that Walker Buehler is out until September with a forearm / elbow strain. Urias hasn't pitched into the 7th inning yet this season and has allowed 4+ runs in 2 of his last 5 starts. Of course he can also be great on any given day, allowing 2 total ER in his other 3 starts over that span.
Giants Making Up Some Ground
San Francisco and Los Angeles battled it out for the West last season, with the Giants winning the division by 1 game as the two teams posted the best records in baseball. San Francisco had been lagging a bit in 2022 – until this weekend when they could possible climb to just 3.5 GB with a win in the June 12th Dodgers at Giants betting matchup.
The Giants got 10 hits and a couple of Darin Ruf HRs to win Friday's opener 7-2, and got just enough on Saturday with 3 runs on just 5 hits. Sunday's results are a toss-up as they hit just .176 as a team vs. Urias. Austin Slater has had some success against the L.A. starter, going 8-20 with a HR.
Rodon (4-4, 3.51 ERA) will try to pitch San Francisco to the sweep and find some of the earlier season magic that saw him go 3-0 with a 1.17 ERA in April. Rodon was 1-4 with a 5.67 ERA in May but has a decent 3.00 ERA in two June starts.
Free June 12th Dodgers at Giants Betting Pick
There's some value on L.A at -125 as they've only been priced that low one other time in the last 23 games. San Francisco has gone blow for blow with the Dodgers this weekend though and they want the sweep. With nearly 75% of public betting on L.A., it's a good opportunity to pivot towards the home team.
Free Pick: Giants +115