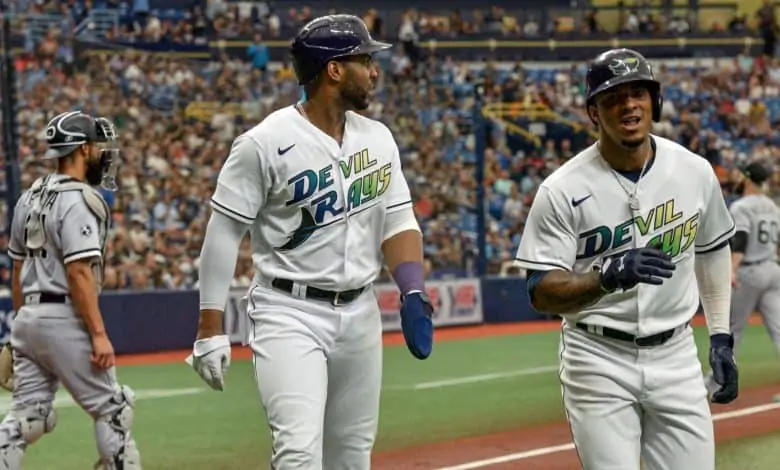 The August 22nd White Sox at Rays matchup is a rubber match between two 1st place teams. Chicago took the opener 7-5 on Friday as -115 favorites, while Tampa Bay evened things up 8-4 on Saturday at -142. The Rays are listed as -125 favorites in Sunday's series finale.
Both teams are starting to run away with their respective divisions. Tampa Bay has used a 7-3 stretch over their last 10 to build up a 4 game lead in the East. Chicago hasn't been in a race for a couple months now, up 10.5 on the Indians in the Central. There's definitely some value on the White Sox +105 as Tampa Bay's Chris Archer (0-1, 6.23 ERA) makes his first start since April.
Should Chicago Be Favored?
The White Sox are just 5-5 over their last 10 games, but are they the play in Sunday's series finale? Archer has to be a bit rusty and on a pitch count in his first start in over four months, and hasn't thrown out of the 3rd inning in either of his appearances in 2021.
Tampa Bay has familiarity using the opener, which could essentially be Archer's job in the August 22nd White Sox at Rays pick. Either way the White Sox offense has a great opportunity on Sunday. Tim Anderson had 3 hits on Friday and scored 4 runs but had the day off Saturday. Anderson should be back in the lineup for the finale, but is 2 for 9 with 5 K's in his career vs. Archer.
Another reason why Chicago has a solid chance at the W on Sunday is because Reynaldo Lopez (2-0, 1.08 ERA) is the starter. Lopez is making just his 4th start of the season (8 relief appearances) but has only allowed a single run over his last 7 outings.
What to Expect From Archer?
Archer is activated on Sunday for the first time since April 10th, but what are the realistic expectations for this start? Archer has pitched just 4.1 innings since 2019, missing the entire 2020 campaign after a procedure for thoracic outlet syndrome and landed on the 60-day IL with forearm soreness earlier this year.
Tampa Bay shouldn't expect the type of starting pitching performance they've gotten so far this weekend. Michael Wacha was solid on Friday, throwing 5.0 innings and allowing just 2 ER while Luis Patino also gave up 2 ER over 6.0 IP on Saturday. The Rays also have the 3rd best bullpen ERA in the league.
The Rays offense managed just 5 hits on Friday, with Lucas Giolito tossing 7 IP of 3-hit ball for Chicago. Brandon Lowe was 0-3 in the leadoff spot in that game but responded with a couple of doubles after being moved down in the order on Saturday. The Rays as a whole have actually hit Lopez pretty well, going 17-52 (.327) vs. the Chicago starter.
August 22nd White Sox at Rays Pick
Both pitchers are kind of a wild card in this matchup, meaning the total of 9 has a great chance of going 'over'. Chicago will almost assuredly get more out of their starter Lopez as he went 5.0 IP last time out even in just his third start of the season. TB's bullpen is good, but turning it over to them likely in the 2nd or 3rd gives Chicago an advantage.
White Sox 6 – Rays 3
Free Pick: White Sox +105