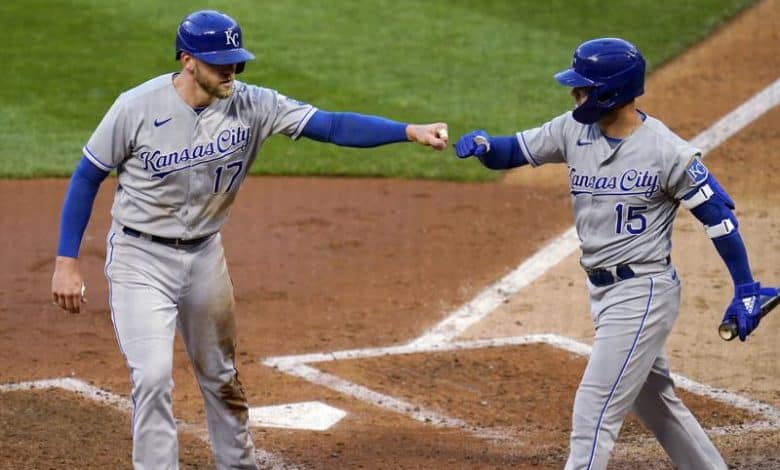 Minnesota will look for a bit of revenge when they head into the May 29th Royals at Twins matchup. Rocco Baldelli's team was roughed up 8-3 in the series opener, with Kansas City scoring as many runs on Friday as they did in the previous four contests.
The Twins are still a huge -160 favorite on Saturday afternoon, as they've won 20 of the last 27 meetings between the two teams in the Twin Cities. KC shouldn't be overlooked at +140 though, as they've gone 6-3 over their last 9 games and might be having a couple of their offensive leaders starting to break out of long slumps.
Sign of Things to Come For KC?
The Royals offense had been stagnant prior to Friday night's visit to Target Field, scoring just 8 runs in the four games prior but somewhat remarkably going 2-2 over that span. The series opening 8 runs and 13 hits is a sign of how potent the KC offense can be when everybody is clicking though.
Specifically, Jorge Soler snapped a 6-game hitless streak (0-21) going 2-4 and Hunter Dozier returned after a two week absence to get a hit that snapped an 0-31 slide. If those two can start to get hot, and Carlos Santana (3 HR last 11 games) and Whit Merrifield (3 HR on Friday) can continue to produce KC can stay in the hunt in the AL Central.
The big issue for KC heading into the May 29th Royals at Twins tilt is their pitching. Ervin Santana (0-0, 2.20 ERA) will likely go in the opener role, throwing just 1.0 IP over the past two weeks. Santana hasn't started since April 17th, giving up just 2 hits and an ER over 3.0 IP against the Blue Jays.
Can Twins Offense Dominate on Saturday?
Minnesota will be facing an opener on Saturday and thus a healthy dose of the KC bullpen. Can that help the Twins bounce back from a disappointing 8-3 loss on Friday as -158 favorites? Minnesota is still up just 1/2 a game on Detroit for last place in the AL Central, but have been playing better lately with 6 wins in 7 games prior to Friday's defeat.
Minnesota's offense had been showing some signs of coming to life, scoring 6+ runs in 5 of the last 8 games. Miguel Sano has been a big part of that recent success, belting out 7 HR in his last 14 games, with 17 RBI. Nelson Cruz and Josh Donaldson have combined to hit 5HRs off Santana (granted in 67 AB), so the Twins may be able to get out in this one early.
The pressure falls on J.A. Happ (2-2, 5.44 ERA) to keep the Royals offense at bay on Saturday. The left-hander is going to give up some runs (19 ER over last three starts in 13.0 IP) but also struck out 10 vs. Cleveland in his last start. On the bright side Happ has a 3.86 ERA at home, compared to 7.08 on the road.
Free May 29th Royals at Twins Pick
The Twins lost on Friday, but had been playing much better prior to that defeat. The -160 price tag is unfortunate though, and Happ has been brutal on the mound lately. With the Royals using an opener, and the KC offense possibly heating up the play is for a high scoring contest.
Twins 6 – Royals 5
Free Pick: Over 9.5