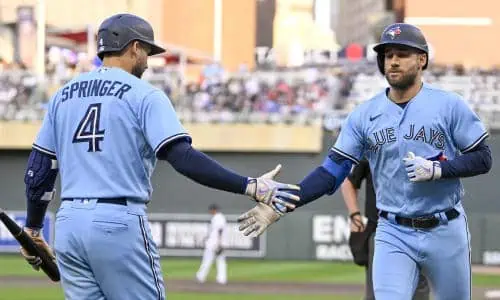 The Toronto offense has sputtered out a bit since their 20-1 win over Tampa Bay on Tuesday, scoring three runs apiece in each of the last three games. That was good enough for a 3-1 win at Target Field on Friday night, but it could be more tough sledding at the plate in the May 27th Blue Jays at Twins betting matchup.
With Friday's loss Minnesota is just 1-3 on their current road trip, yet are still 2 games up in first place in the mundane AL Central. Oddsmakers like the Twins' chances to even things up on Saturday afternoon, setting them as -115 favorites after losing as +132 underdogs in the opener.
Why Toronto Has Value on Saturday
The Blue Jays may have only scored three runs on Friday, but they had a very solid offensive night as Kevin Kiermaier hit a HR and a triple, Bo Bichette added a HR, while George Springer and Whit Merrifield both had 2-hit nights.
Any time you can pick up a win when Vlad Guerrero, Jr., Matt Chapman, and Brandon Belt (3-4-5 in the lineup) go 0-11 is a solid victory, and Toronto should have plenty of chances for offensive success in the May 27th Blue Jays at Twins betting matchup as well because Lopez – although solid at times – has also had his struggles. Lopez has allowed 5+ ER three times in his last six starts.
Kevin Gausman pitched into the 6th inning and allowed just 1 ER in Friday night's win, a performance Chris Bassitt (5-3, 3.03 ERA) would like to repeat in game two. Bassitt gave up 3 HRs on Tuesday against Tampa Bay but hadn't allowed a run in his three previous starts (23.0 IP).
Why Minnesota Has Value on Saturday
The Twins suffered the loss on Friday, but they can take some confidence in drawing 9 walks compared to just their 5 hits. while also working 3-ball counts in 10 other ABs. Going 1-9 with runners in scoring position was Minnesota's downfall though, but at least they had some chances.
Minnesota has a tough test against Bassitt on Saturday, but he's also a much better pitcher at home (2.16 ERA) compared to on the road (4.03). The 2:10 PM ET start time also helps the Twins as Bassitt has allowed 13 ER over 8.1 IP (14.04 ERA) in his two day outings this season compared to a 1.33 ERA in his 8 night appearances.
Sure Lopez (2-3, 3.90 ERA) has surrendered 5+ ER in three of his last six starts, but two of those outings came at the end of April. His 4.70 ERA last month has dropped to 3.75 in May while giving up 2 ER or less in three of his last four starts.
Free May 27th Blue Jays at Twins Betting Pick
Bassitt's home/road and day/night splits are downright scary for a pitcher with such solid overall numbers on the season. The Twins have also dropped four of their last five though while scoring a total of 7 runs in those defeats. Toronto is still a sub .500 team on the road though and this one looks like it goes Minnesota's way.
Free Pick: Twins -115