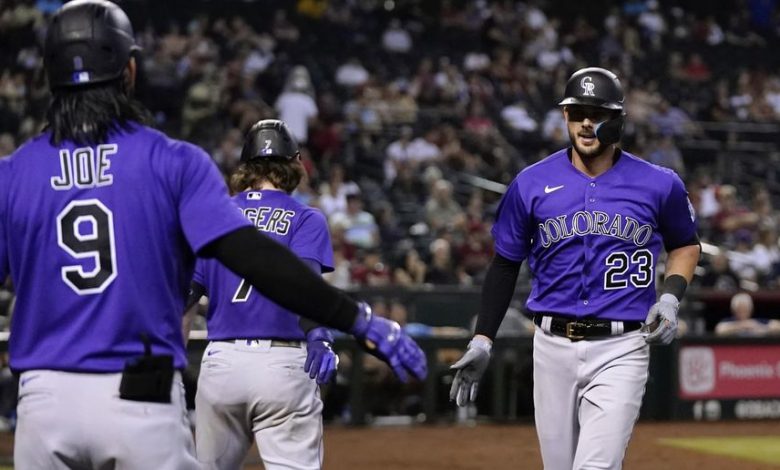 Oddsmakers still aren't budging off of Arizona in the July 9th Rockies at Diamondbacks betting matchup. Despite Colorado taking the first two games of the weekend series, the D'Backs are still up there as -126 favorites on Saturday afternoon.
Arizona cost bettors at -163 in Friday night's 6-5 loss, and were +100 in the series opening 4-3 defeat. The Rockies have now won four straight against the Diamondbacks after taking two of three at Coors Field last weekend, and it definitely looks like the value is on the visitors at +106.
Bryant Heating Up
Colorado fans are hoping that Kris Bryant is finally healthy and comfortable in his new home. Bryant was 3-4 with 2 HR and a double in Friday night's win and also had an RBI double in Thursday night's win. Bryant also had a 3-hit game against Arizona last weekend and has upped his July average to .393.
If Bryant can continue his hot hitting that gives Colorado a very potent top of the lineup to go along with Charlie Blackmon, C.J. Cron, and Brendan Rodgers. The team may be without one of those components in the July 9th Rockies at Diamondbacks betting matchup, as Cron left in the 5th inning of Friday's win after getting hit on the wrist by a pitch. X-rays were negative so maybe Cron will be available at the very least in a pinch hitting capacity.
The Rockies are underdogs for the 9th straight Kyle Freeland (4-6, 4.43 ERA) start. They've gone 5-3 in the previous 8, and Freeland pitched O.K. on Monday giving up 4 runs to the Dodgers in 5.2 IP in what was a 5-3 L.A win.
Bumgarner Aims for a Second Straight Win
Arizona had a decent offensive night on Friday, with Josh Rojas and Sergio Alcantara hitting HRs. Rojas added a double, walked, stole a base, and had a suicide squeeze bunt as well on a very active night. Carson Kelly had a 3-hit night on Thursday with 3 RBI but it still has the Diamondbacks in a 0-2 hole in the series heading into Saturday.
Madison Bumgarner (4-8, 3.74 ERA) tries to pick up the win in his second straight start and his third in the last five games. Bumgarner has just a single win in each of the first four months of the season and was 1-5 with a 4.06 in June. He's already 1-0 in July however after allowing 3 ER over 5.0 IP in an 8-3 win over his former team San Francisco. That's still a 5.40 ERA though.
There are some Colorado batters who have had success against Bumgarner, most notably Blackmon who is 17-50 with 3 HRs. Cron is also 3-7 against the Arizona starter so if he is indeed out of this game that's an advantage for the Diamondbacks.
Free July 9th Diamondbacks at Rockies Betting Pick
64% of the betting public is backing Arizona in this spot despite the fact that they've dropped the first two in this series. Do they really trust Bumgarner to pick up a second straight win – and he wasn't even really that sharp in his last victory.
If Cron is not able to play that's a big blow for the Rockies, but if Bryant stays hot they have just as good a chance to win this as Arizona – and at a better price tag.
Free Pick: Rockies +108