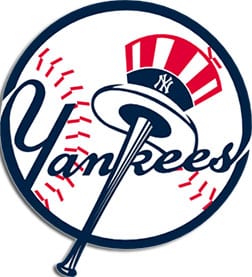 Overview
The LA Angles are in New York again today where they try to avoid the four game sweep at the hands of the Yankees. The Yankees have won the first three game of this series and they have actually done it fairly easily outscoring the Angels 23-11.
Head to Head Trends
Angels are 17-35 in the last 52 meetings in New York.
Over is 5-1 in Novas last 6 starts vs. Angels.
New York Yankees (-125)
The New York Yankees are 4th in the American League East 6.5 games back of the 1st place Baltimore Orioles. It looks like the Yankees bats are finally starting to wake up. After struggling big time most of the season the Yankees are hitting .335 as a team and averaging 6.40 runs per game over their last 5 games.
Starting for the Yankees in this one is Ivan Nova who is 4-3 with a 4.41 ERA in his 6 starts this season. Nova started the season in the bullpen where he was doing a solid enough job. As a starter Nova is really average at best the only good thing I can say is that he gets fairly deep into games going 6+ innings in his last 4 starts.
New York Yankees Trends
Yankees are 4-1 in their last 5 overall.
Yankees are 12-4 in Novas last 16 home starts vs. a team with a losing record.
LA Angels (+115)
The LA Angels are 4th in the American League West 10 games back of the 1st place Texas Rangers. The Angels are kind of a hard team to handicap they have probably the best player in baseball in Mike Trout who can single handily win games but almost the entire rest of the team is borderline garbage so winning or losing usually depends on if Trout has a big game or not.
Taking the mound for the Angles tonight is Jhoulys Chacin who is 1-1 with a 3.73 ERA in his 5 starts with the Angles and is 2-3 with a 4.50 ERA overall this season between the Angels and Braves. Chacin has actually been pretty good since joining the Angels but if the Braves are getting rid of someone how good can they really be so I have my doubts about Chacin.
LA Angles Trends
Angels are 1-4 in their last 5 overall.
Angels are 1-11 in their last 12 vs. American League East.
Conclusion
I like the New York Yankees over the Angels again today. The Yankees were hitting so bad there for a while that they almost have to go on a stretch where they just crush the ball for a few weeks just to make up for it and that looks to be what's happening right now so the Yankees are probably a good team to ride for the next little while.
Free Pick: New York Yankees -125