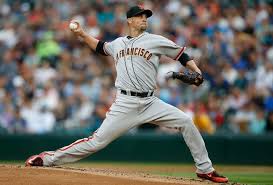 The Baltimore Orioles continue their west coast swing tonight in San Francisco where they take on the Giants. Being in opposite leagues the Orioles and Giants don't have much history just 12 meetings going back to 2002 with each team winning 6 games a piece.
Head to Head Trends
No trends available.
San Francisco Giants (+110)
The San Francisco Giants are 1st in the National League West just a game ahead of the LA Dodgers. The Giants had a good 6 week stretch from the middle of May to early July but since then they haven't done too much winning just 8 of their last 24 games.
The Giants have a solid offense averaging 4.43 runs per game and they also have a decent pitching staff allowing 3.99 runs per game.  The Giants offense has however cooled off of late and that's the main reason for their recent struggles.
Starting for the Giants in this one is Matt Cain who is 4-6 with a 5.16 ERA on the season. Cain is having another disappointing season and is nowhere near the pitcher he used to be. Cain has had a couple good starts in a row but he doesn't go very late into games, the last time he threw 6 innings was almost 2 months ago.
San Francisco Giants Trends
Giants are 6-14 in Cains last 20 starts with 5 days of rest.
Giants are 6-14 in their last 20 games vs. a right-handed starter.
Baltimore Orioles (-120)
The Baltimore Orioles are 2nd in the American League East a half game back of the 1st place Toronto Blue Jays. The Orioles are similar to the Giants in the fact that they look like they peaked too early as well. They were one of the best teams in the league for a bit but they have since cooled off winning just 6 of their last 16 games.
On the hill for the Orioles tonight is Dylan Bundy who is 5-3 with a 3.05 ERA on the season. Bundy has spent most of the season in the bullpen so this will be just his 6th start of the season. Bundy has ok numbers as a starter but it looks like he's getting stronger with each start so lets hope that continues.
Baltimore Orioles Trends
Orioles are 7-1 in their last 8 interleague road games.
Orioles are 16-7 in their last 23 games following a win.
Conclusion
I'm going with the Baltimore Orioles over the Giants in this one. Both teams are in a bit of a slump right now especially with the bats but Orioles are showing some signs that they are about to turn things around and start crushing opposing pitchers again.
Free Pick: Baltimore Orioles -120