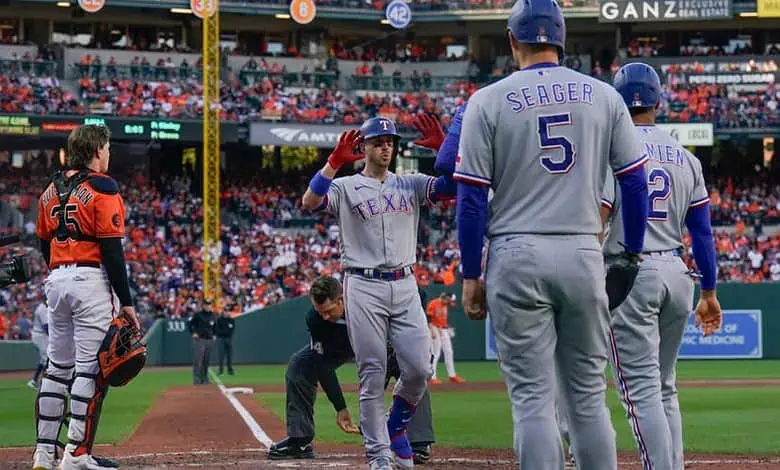 The brooms are out in Arlington for the Orioles at Rangers game 3 betting matchup, as Texas can get the sweep over Baltimore with a win in this best-of-five series. This is also the first home game of the playoffs for the Rangers, who have taken the first two games of the ALDS on the road 3-2 and 11-8 after knocking out Tampa Bay in two contests before that.
Baltimore has their backs against the wall on Tuesday, but this is also a team that won 101 games during the regular season. The Orioles were favored at home in their first two losses of the ALDS, but are +120 underdogs for game 3 (TEX -142).
Why Baltimore Has Value on Tuesday
It's going to be tough for Baltimore to get a road win in a hostile environment in the Orioles at Rangers game 3 betting matchup considering this is the first time Texas fans get to see their team in person this postseason. The Rangers have gotten in a groove this playoffs with four straight wins, but is it possible that playing their first home game since September 24th could actually be a bad thing in having them too amped up?
The O's had plenty of offense in game two, outhitting Texas 14-11 but ultimately falling 11-8. Austin Hays had a 3-4 night and Aaron Hicks hit a 3-run HR as part of his 5 RBI night but the Rangers scored 9 runs combined in the 2nd and 3rd innings.
Having Monday off is huge for an Orioles team that used 7 relievers in game 2 after starter Grayson Rodriguez could only muster 1.2 IP. Dean Kremer gets the ball to try and keep Baltimore alive after going 13-5 with a 4.12 ERA during the regular season. The Orioles have won six of Kremer's last seven starts.
Why Texas Has Value on Tuesday
The Rangers expect a raucous crowd for their first home playoff game of 2023 and they were 50-31 at Globe Life Field during the regular season. Texas outscored the Rays 11-1 in their two game sweep in Tampa to open up the postseason and have won a defensive struggle (3-2) and a shootout (11-8) so far against Baltimore.
Texas got off to a fast start in game two thanks to a Mitch Garver grand slam and that's what they'll try to do again on Tuesday to try and get to that Baltimore bullpen ASAP. Corey Seager can help with that as he had an eagle eye to draw five walks on Sunday.
Nathan Eovaldi gets the start to try and send Texas to the ALCS against the Twins/Astros winner. The right-hander already has a playoff start under his belt, throwing 6.2 IP while allowing just 1 ER last Wednesday against the Rays and the Rangers have won five of his last six starts overall.
Free Game 3 Orioles at Rangers Betting Pick
52% of the betting public likes Baltimore early on Tuesday, which does come as somewhat of a surprise. Many people expect the 100+ win Orioles to extend this series at least one game, especially if the Rangers come out a little over excited playing their first home game in over two weeks. Since this one does seem like it could go either way, have to go with the better price.
Free Pick: Orioles +120