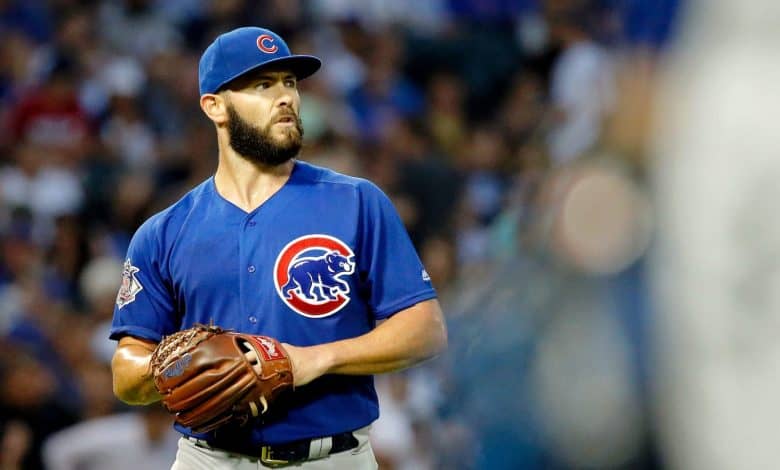 A couple of 1st place teams begin a 4-game series in the June 14th Cubs at Mets matchup. Chicago comes in on a 5-game win streak, including an emotional sweep of rival St. Louis as fans returned to Wrigley Field at full capacity for the 1st time.
Could the Cubs be set for a letdown after the big weekend against the Cardinals? Chicago is also a much different team at Wrigley Field (24-10) compared to on the road (14-17). The Mets have a 3-game lead over the Phillies in the East, and had a successful weekend taking two of three from the Padres. NYM is a -117 favorite in what should be a tight contest (CHI +108).
Arrieta Tries to Keep Cubs Rolling
Chicago goes with Jake Arrieta (5-6, 4.97 ERA) in the June14th Cubs at Mets matchup. The right-hander is still struggling for consistency, looking solid last time out in allowing 1 ER over 5.0 IP against the Padres last time out. Arrieta allowed 6ER over 2.0 IP at San Francisco in a start prior however.
Arrieta is 3-3 with a 6.40 ERA in 7 road starts this season. He has plenty of experience vs. the Mets after spending the last three seasons with the Phillies, and was able to hold New York to 1 ER on just 3 hits (5.0 IP) on April 20th of this season.
If Arrieta can hold his own, the Cubs have a great chance to make it six wins in a row on Monday night. The Chicago bats have put up 7+ runs in 3 of the last 5, fueled by the red hot Joc Pederson who has 3 HRs in the last 5 games. The Cubs are also 6-2 in their last 8 vs. LH starters.
Mets Get the Edge at Home?
New York comes into Monday's contest off of a loss, falling 7-3 in their series finale vs. the Padres. That still puts the Mets record at 17-6 on the season at Citi Field, which gives them value with just a -117 price tag in this spot.
The Mets offense wasn't overly impressive over the weekend, tallying 3-2 and 4-1 wins over San Diego in the first two games of the series. That followed up a big 14-1 outburst in their series finale vs. Baltimore, boosted by HRs from Pete Alonso and Billy McKinney. Those two batters have been playing well lately, with McKinney going 5 for his last 10 with 2 HRs, and Alonso hitting 3 long balls in the last 5.
New York might seem like somewhat of a strange favorite on Monday considering starter David Peterson's (1-5, 6.32 ERA) recent struggles. The left-hander has allowed 15 ER over his last four starts (13.2 IP) and has lasted just a combined 3.0 IP in his last two.
Free June 14th Cubs at Mets Pick
It's a rough call with the Mets being so good at home and Chicago in a possible let down spot after an emotional weekend sweeping St. Louis. Arrieta has had his share of issues lately, but nothing compared to Peterson for the Mets. The total seems low at 8.5, but the value lies on the streaking North Siders.
Cubs 6 – Mets 3
Free Pick: Cubs +108