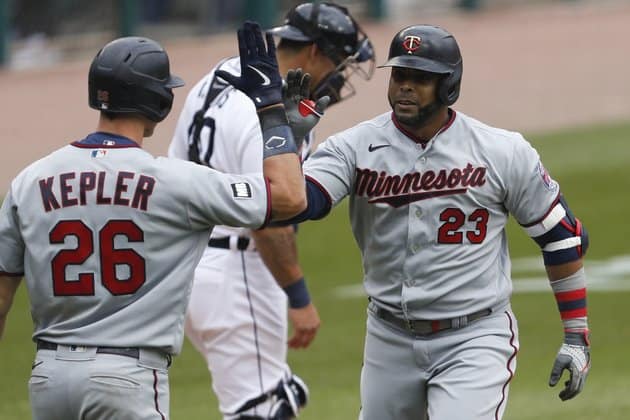 Detroit will look for a little better pitching heading into the April 6th Twins at Tigers matchup. Minnesota continued their hot hitting on Monday, tallying a 15-6 win behind a couple of HRs from Nelson Cruz. The Twins were a -154 favorite in the series opener, but that number has dropped to -130 for game two.
Does Detroit have value at +120? They did take two of three from Cleveland to open the season but also burned through five relievers in Monday's loss. Being a bit short in the bullpen may not be the best scenario for facing a Twins team that has scored 23 runs in the last two games.
Twins Like This DH Rule
One of the more impressive things about Minnesota taking 2 of 3 in Milwaukee to start the season is that they had to play by NL rules. This means no DH, and no Nelson Cruz in the lineup all weekend. Cruz did get a couple ABs vs. the Brewers, but broke out on Monday going 3-6 with 2 HRs (including a grand slam) while driving in 5 runs.
The Minnesota offense is clicking heading into the April 6th Twins at Tigers matchup. Rocco Baldelli's team captured an 8-2 win on Sunday behind HRs from Miguel Sano and Max Kepler. The Twins now rank 4th in the majors in runs/game.
What's been impressive about Minnesota's 3-1 start besides their bats has been the pitching. That continued on Monday, as Matt Shoemaker threw 6.0 innings of 3-hit ball. Randy Dobnak did give up a grand slam late, but he also logged 3.0IP so the Twins only needed to use one reliever.
Tigers Need a Long Outing From Mize
AJ Hinch would like as many innings as possible from Tuesday's starter Casey Mize. The fact that Jose Urena could only go 3.0 IP in the series opener required Hinch to squeeze 6.0 IP out of his bullpen, using five relievers in the process.
Mize is a top prospect, but was 0-3 with a 6.99 ERA in 7 starts last season. Tigers personnel is hoping that Mize makes strides in his second year in the big leagues, but he didn't have the best Spring with a 7.23 ERA in five starts. Mize did allow 5ER over 7.0 IP in two starts vs. Minnesota last season. The good news is that he's held Cruz to 0-2 so far.
Detroit bats face J.A. Happ on Tuesday, looking to get things started a little earlier than Akil Baddoo's 9th inning grand slam on Monday. Happ had a 3.47 ERA in 9 starts with the Yankees last season, his best numbers in the last three years. Detroit's Niko Goodrum is ready for this matchup, as he's 6-8 in his career vs. Happ. Jeimer Candelario is just 2-14 (.143) vs. Happ, but both hits have been HRs.
Free April 6th Twins at Tigers Pick
When teams combine for a ton of runs like these two did on Monday (21), it's often seen as a chase to expect them to do it again. That's when you see a lot of 3-2 final scores. When you get to the back end of the rotation, with two pitchers who had a 7+ ERA this Spring, and with a tired Tigers bullpen it's not out of the realm of possibility to see another high scoring game.
Tigers 7 – Twins 6
Free Pick: Over 9