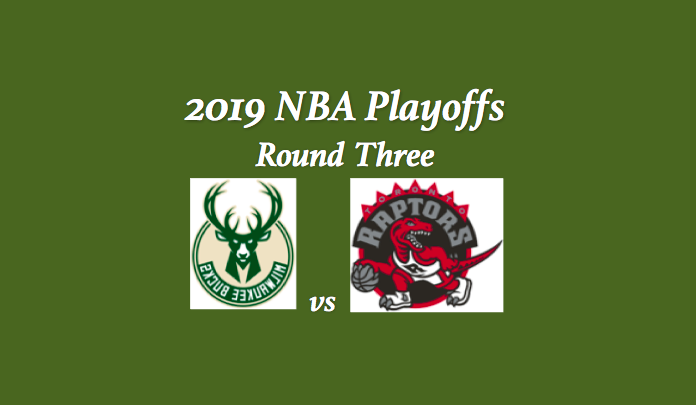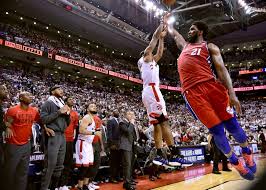 This Milwaukee Bucks vs Toronto Raptors preview for the 2019 NBA East Finals is tilting toward the Bucks. Our Milwaukee Bucks vs Toronto Raptors preview notes that this series features the number one and two seeds in the Eastern Conference. In the last round, the Raptors took seven games to eliminate the Philadelphia 76ers. On the other hand, the Bucks got to the finals by taking down the Boston Celtics over the course of five games.
This Eastern Conference Finals series will tip off on Wednesday, April 15 at 8:30 pm ET at the Fiserv Forum in Milwaukee, WI. After playing the first two games in Milwaukee, the series will shift to Toronto where these two teams will meet at the Scotiabank Arena for two games. After that, if more games are needed the NBA Eastern Conference Finals will alternate between Milwaukee and Toronto until one team wins four games.
Milwaukee Bucks vs Toronto Raptors Preview – Stats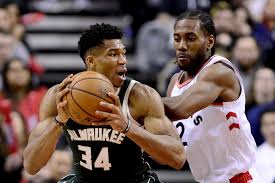 The Bucks are +16.5 in PF/PA differential. However, in the same category, the Raptors are +18.4. Milwaukee is scoring 3.7 PPG more than Toronto. However, the Raptors are allowing opponents 5.6 fewer points per game. In the playoffs, the Bucks are scoring 116.9 points per game, while the Raptors have been good for just 103.6.
Major areas where Milwaukee performs better than Toronto include rebounding (52.0 to 41.8) and assists (25.6 to 22.3). In shooting, the Bucks are overall a few points better in most areas except for free throws. The Raptors are hitting an exemplary 82.3% of frees. Milwaukee is good from the charity stripe just 73.2% of the time. Still, in terms of points generated by free throws, the Bucks are averaging three more points per game than Toronto.
Bucks Play Trail Raptors – Players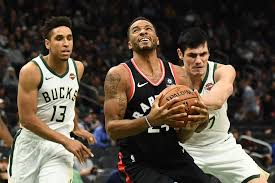 Milwaukee comes to this series much healthier than Toronto. Milwaukee's top scorer and rebounder is double-double aficionado PF Giannis Antetokounmpo. Along with averaging 27.4 PPG and 11.3 APG, Antetokounmpo has been good for 4.4 APG, 1.2 STPG, and 1.6 BPG. SF Khris Middleton is second in scoring and taking down rebounds, averaging 19.1 PPG and 6.0 RPG. He's also a 46.7% three-point shooter. PG Eric Bledsoe is putting up 16.0 PPG while dishing off 4.3 APG.
In the paint, Toronto has two big talents in PF Pascal Siakam and SF Kawhi Leonard. Leonard is averaging a whopping 31.8 RPG and Siakam 20.8 PPG. Along with being the team's point leader, Leonard also tops the Raptors with 8.5 RPG. Siakam is second in rebounds with 7.3 per contest. Kyle Lowry has been good for 7.1 APG and 12.4 PPG. He's a major playmaker.
Five Keys to 2019 NBA Eastern Conference Finals
Raptors excel at frees
Milwaukee and Toronto frontcourts are fairly even
Three-point game belongs to Bucks
For Toronto Lowry, Siakam, and Leonard can score at will
Milwaukee rebounding superior
Milwaukee Bucks vs Toronto Raptors Preview – Our Pick
In the regular season, the Milwaukee Bucks beat the Toronto Raptors three out of four times. The Bucks possess a solid advantage in this best of seven series. They will be very tough to beat at home where this season they lost just eight games. Our Milwaukee Bucks vs Toronto Raptors preview picks the Bucks in the 2019 NBA Eastern Conference Finals. We do expect them to win this series over the course of six games.
Summary Bucks vs Raptors Pick
Milwaukee Bucks in six games