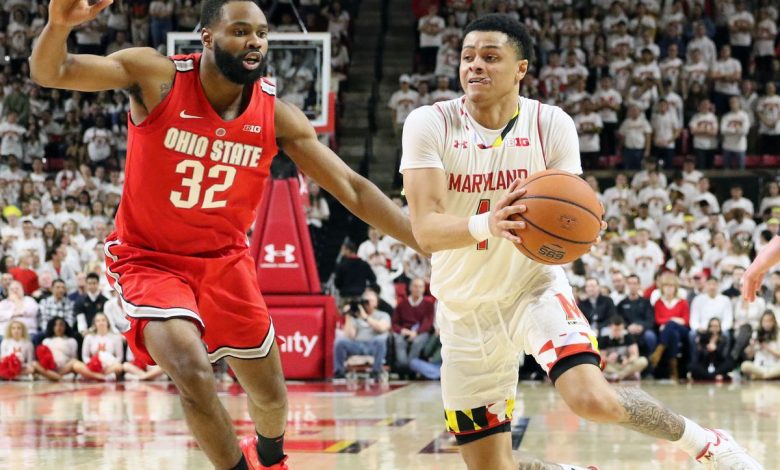 The Big Ten Conference is absolutely loaded with terrific teams, and there are great matchups on the schedule almost every night. We have an exciting Friday night Big Ten game this week, and it's a matchup between the No. 12 Maryland Terrapins and the Iowa Hawkeyes.
Every game will play a huge role in deciding the conference standings and resumes needed for March Madness participation.
Maryland comes into this game with an overall record of 13-2, and it is 3-1 so far in Big Ten Conference play. The Terrapins have won three straight games, including an impressive win over Ohio State.
Iowa will be looking to turn things around after losing two straight games. The Hawkeyes are just 10-5 overall and 1-3 in Big Ten Conference play. Maryland is a slight 1.5-point favorite in this game.
Defense Remains Strong For Maryland
The Terrapins are one of the best defensive teams in the Big Ten Conference, and they have been sharp of late. Maryland has allowed just 61 points per game, and it is extremely tough to score on.
The Terrapins have scored just 74.8 points per game, but they are comfortable playing the game at a slower pace. Slowing down Iowa is not an easy task, but Maryland can get it done.
Point guard Anthony Cowan Jr. is one of the most talented players in the league, and he has been dynamite for the Terrapins this season. Cowan leads the team with 16.7 points and 4.1 assists per game and led the way in the huge win over Ohio State.
Center Jalen Smith gives Maryland an interior scoring threat, and the Terrapins can score when they need it.
Iowa Must Make Shots From Deep
The Hawkeyes do not like to play at a slow pace, and they want to score points in a hurry. Iowa is scoring over 80 points per game on offense, and it shoots a ton of three-point shots.
The Hawkeyes have made 121 three-point shots so far this season, and they must shoot it well in this game. Iowa does need some work on defense, as it is allowing 71 points per game.
Center Luka Garza has done all he can to lead his Iowa team, but he will need some help as the season goes along. Garza leads this team with 22.1 points and 10.7 rebounds per game, but he will have a tough matchup with Smith.
Joe Wieskamp is an elite three-point shooter and has chipped in with 14 points per game. If Iowa is making shots, it is really tough to beat.
Hawkeyes Too Tough On Home Floor
Home teams have dominated the first few weeks of Big Ten Conference play, and it's hard to see that trend changing too much. There are just too many really good teams in the conference, and playing on the road is never an easy task.
Maryland has the better roster in this matchup, but Iowa is definitely capable of winning some big games. Look for the Hawkeyes to shoot the ball well enough to pick up a huge Big Ten.
Bet the Iowa Hawkeyes +1.5 over the Maryland Terrapins on Friday night.