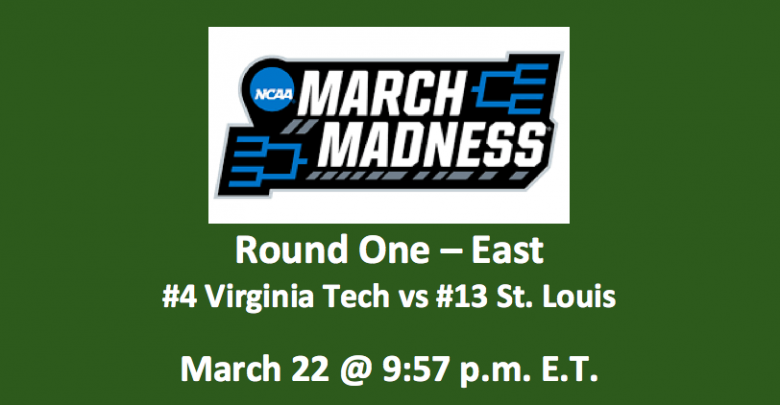 Our Virginia Tech vs St Louis pick for this Easy Region games has the Hokies favored by 10.5 points. This is the final game of the 2019 NCAA Tournament first round with the second round kicking off tomorrow. This last game for Friday, March 22 will tip off at 9:57 pm ET. The fourth-seed Virginia Hokies (24-8 finished fifth in the ACC. In the league tournament quarterfinals, Florida State beat VT in OT 65-63. The St Louis Billikens (23-12) ended the regular in sixth place in the Athletic 10. But the Billikens took it all down in the conference tournament. In the finals they beat St. Bonaventure 55-53.
Virginia Tech
Our Virginia Tech vs St Louis pick likes the Hokies a lot. They're averaging 74 PPG, 15.3 APG, and 32.6 RPG. Their shooting percentages are excellent, as VT has a 45.7 FG%, 75.8 FT%, and 39.4 3PT%. They are tough to stop, Four players have double digits in scoring. Guard Nickeil Alexander-Walker and forward Kerry Blackshear Jr. are top producers. Alexander-Walker leads the team with 16.6 PPG and Blackshear is tops with 7.4 RPG and second in points with 14.7 PPG. Guard Justin Robinson is tops in assists with 5.4 per game and is also averaging 13.7 PPG.
St. Louis
Our Virginia Tech vs St Louis pick finds that from the start the Billikens are in trouble in this game. The team is hitting just 60% of their free throws and only 31.3% of their threes and 41.9% of their field goals. The team is grabbing 39.8 RPG, which is solid, as are their 7.1 steals per game. But the St Louis average points per game of 67.4 is low. This team has three guards, Javon Bess (15.3 PPG, 6.7 RPG)., Tramaine Isabell Jr (13.8 PPG, 4.1 RPG). Jordan Goodwin (10.6 PPG, 7.5 RPG), who can score and rebound. Isabell and Goodwin are good for 3/5 APG each. Hasahn French is the top guy in front, grabbing 8.4 RPG and scoring 9.3 PPG.
NCAA Tournament Round One – Virginia Tech vs St Louis Pick
Our Virginia Tech vs St Louis pick sees the Hokies as commanding this game and the outcome. We're taking VT at -10.5. They are soild in just about everyway.
Summary East Region, Round One- Virginia Tech vs St Louis Pick: Virginia Tech Hokies at -10.5