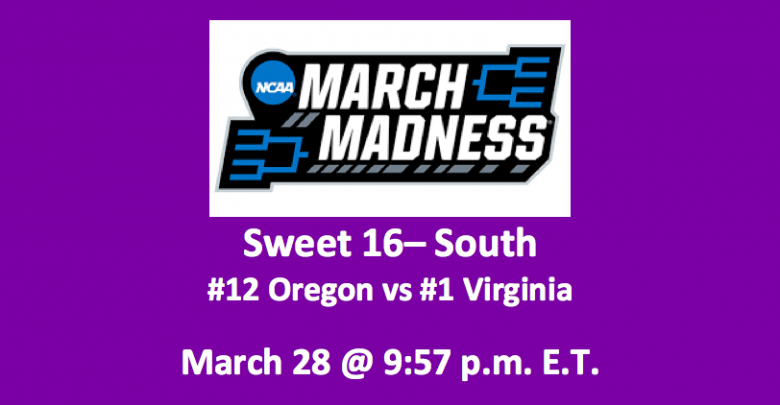 Our Oregon vs Virginia preview and pick has the Cavaliers at either -8.0 or -8.5. This Oregon vs Virginia 2019 NCAA Tournament Sweet 16 matchup will be played on Thursday, March 28 at 9:57 pm ET. The two teams will meet in this South Region contest at the KFC Yum! Center in Louisville, KY. In the first two rounds, the Oregon Ducks (25-12) have won easily. In their first game, the Ducks beat fifth-seed Wisconsin 72-54. Oregon then took down 13th-seed UC Irvine by an almost identical score. The point totals by the end were Ducks 73 and Anteaters 54. To get to the Sweet 16, the Virginia Cavaliers (30-3) beat 16th-seed Gardner-Webb 71-56 and ninth-seed Oklahoma 63-51. In the first half of their initial 2019 NCAAM Tournament contest, the Cavs had a tough time with the Bulldogs, as they went into the locker room behind 36-30. In the second half, Virginia outscored their opponents by a margin of two-to-one, going on to win easily.
Oregon Ducks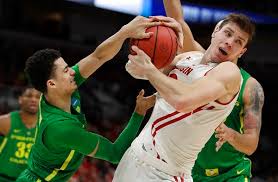 Our Oregon vs Virginia preview observes that the shooting by this team has been on-target in both games. Between the two contests where they beat Wisconsin and UC Irvine, Oregon posted the following success rates – 50.4 FG%, 49.3 3PT%, and 78.4% FT%. In those two games, this team has been good for a total of 13 blocks and 13 steals. Rebounds averaged 32.5 per contest.
For the Ducks, guard Peyton Pritchard had 19 and 18 points and eight and seven assists in each game. The Ducks are very strong at forward. In front, Louis King averaged 16.5 PPG and 4.0 RPG, while Kenny Wooten connected for 10 points and 7.0 RPG. Wooten had four blocks in his first game and seven in his second. In the paint, Paul White is posting 11 PPG on the scoreboard.
Virginia Cavaliers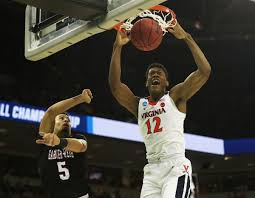 Although the Cavaliers shot 50% from the floor, our Oregon vs Virginia preview notes that they struggled from the arc (29.3%) and the free throw line (50.75%). If Virginia expects to go onto the Elite Eight, they'll have to do a lot better than that. Rebounds averaged 35.5 per game, while the team totaled just 10 PF per contest. Turnovers averaged 10.5, however the Cavs gave up the ball 15 times versus the Bulldogs. Versus Oklahoma, they allowed just six TOs. Assists came in at 11.5 per game.
For the Cavaliers, senior Jack Salt can be a difference-maker. As of late, he's been hobbled by an on-again, off-again injury, causing him and the team issues. Thus far in the 2019 NCAAM Tournament, he's scored just five points and grabbed two rebounds in seven minutes of play. In the first two games, forward Mamadi Diakite has been instrumental in this team's success, averaging 15.5 PPG and 9.0 RPG. In the backcourt, De'Andre Hunter and Ty Jerome have contributed on average 16.5 PPG and 12.5 PPG. Jerome has averaged 4.5 APG and 3.0 STPG.
NCAAM Sweet 16 Oregon vs Virginia Preview – Our Pick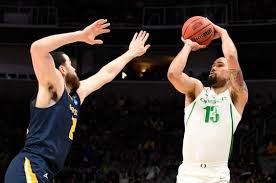 Our Oregon vs Virginia preview has to wonder if the Ducks can acutally pull an upset in this game? The Virginia defense has been overall solid in the tournament, but no better than Oregon's. Plus, with Salt being ineffective, the Cavaliers have lost a major contributor. The Duck shooting has been on target, while the Cavalier shooters have labored. We're going with a major upset and taking Oregon at +8.5.
Summary South Region, Sweet 16 – Oregon vs Virginia Preview: Pick Oregon Ducks at +8.5