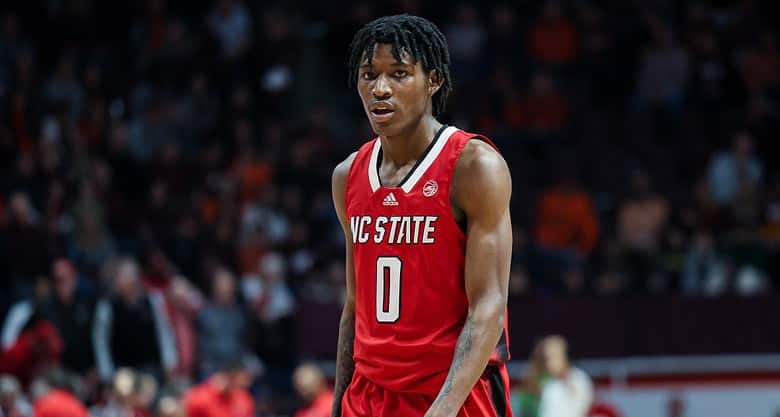 Two teams that can really light up the scoreboard meet in Friday's NCAA Tournament NC State vs Creighton betting matchup. Both the Wolfpack and Bluejays average over 76 points per game and their are 9 players in this matchup that averaged over 11 ppg during the regular season.
While the 'over' 148.5 looks like the early lean in this meeting, Creighton is a -5.5 favorite with a somewhat surprising 68% of the betting public backing the Bluejays. Creighton does have more recent postseason experience, but at first glance this point spread seems a bit too high.
Why NC State Can Cover +5.5 Points
The Wolfpack were 23-10 this season, not bad playing in the ACC and a nice rebound after going 11-21 last year. NC State went 1-1 in the ACC Tournament, but they closed out the regular season with a close 71-67 loss to the red hot Duke Blue Devils at Cameron Indoor Stadium so the Wolfpack can match up with quality teams.
One big reason Kevin Keatts' team can cover +5.5 in the NCAA Tournament NC State vs Creighton meeting is because the Wolfpack have two dynamic scorers that can absolutely go off. Terquavion Smith just went for 30 in the ACC Tournament opening win over Virginia Tech while Jarkel Joiner has gone for 20+ in five of his last eight.
It's very true that Creighton (21-12) could come out on fire in this matchup, but they have also been wildly inconsistent this season. The Bluejays got into the Top 10 at one point in November, but then went on a six game losing streak and also only finished the regular season 3-3 in their last six.
Why Creighton Can Cover -5.5 Points
The Bluejays aren't deep which could catch up to them if they make a deep tournament run, but we should see the best of this team with a week off following an 82-60 loss to Xavier last Saturday in the Big East Tournament. Also, going deep on the roster isn't really required for Creighton, because all five starters average at least 11.0 ppg.
The 2023 NCAA Tournament is a redemption tour for Creighton, who got an opening round win over San Diego State but lost center Ryan Kalkbrenner to a knee injury in the process. The Bluejays still fought hard in a 79-72 loss to Kansas in round two as a +13.5 underdog.
The 7'1″ Kalkbrenner is back and healthy as is Ryan Nembhard who was lost late in February last season to a wrist injury. The Bluejays also added Baylor Scheierman in the offseason after he led South Dakota State to the Big Dance last season so this is a team ready to get dialed in.
Free NCAA Tournament NC State vs Creighton Betting Pick
NC State is in March Madness for the first time since Keatts' debut season in 2018, while Creighton has made the NCAAs in three of the past four years the tourney has been held. Experience definitely favors the Bluejays, but the way Smith and Joiner are scoring the basketball for the Wolfpack makes them a hard team to go against.
Way too much public betting on Creighton and NC State having two very viable high scoring options makes the Wolfpack the pick here.
Free Pick: NC State +5.5