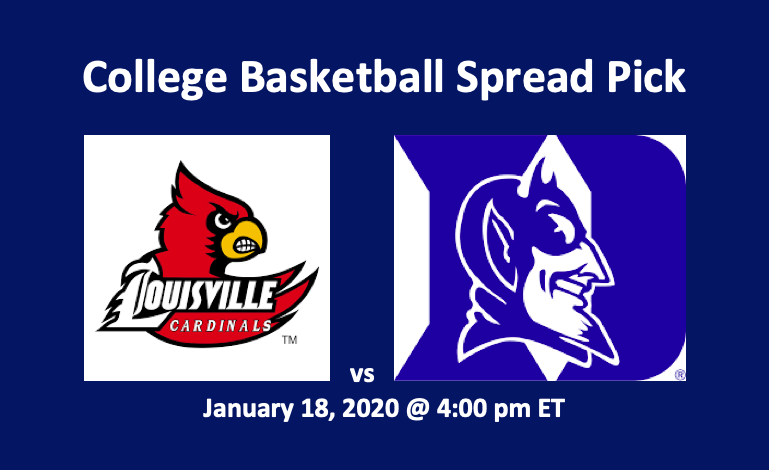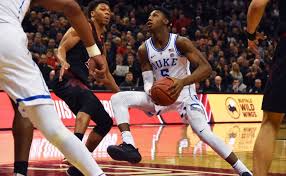 Our Louisville vs Duke pick has the #3 Blue Devils at -8.0. This Louisville vs Duke prediction observes that the #11 Louisville Cardinals (14-3 Overall, 5-1 ACC) are tied with the #2 Duke Blue Devils (15-2 Overall, 5-1 ACC) for first in the Atlantic Coast Conference. There's actually a three-way tie for the top spot in the league with the #9 Florida State Seminoles also at 5-1. This Cardinals vs Blue Devils game will be played Saturday, January 18, 2020 at 4:00 pm ET. The location of this matchup is Cameron Indoor Arena in Durham, NC. This is the first and only meeting between these two teams in the 2019-2020 regular season.
Louisville vs Duke Pick – Recent Performance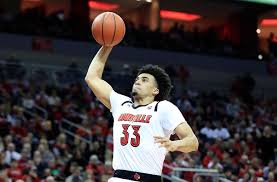 The Cardinals started the season with nine wins. That included a 58-43 victory over #4 Michigan on December 3. Louisville then saw some wind go out of their sails as they lost three of their next five contests. During that time, they suffered two big losses. The first was on December 28 in OT to #19 Kentucky (78-70). The second loss was in their next game, which was on January 4 against #18 Florida State. The Seminoles handled the Cardinals easily, beating them 78-65. Louisville's won its last three games beating Miami, Notre Dame, and Pittsburgh.
The Duke Blue Devils won their first half-dozen games. In fact, they got off to a great start, beating #3 Kansas 68-66 in their first game of the season. Duke's first loss of the season occurred on November 26 when unranked Stephen F Austin beat them 85-83 in OT. That loss was followed by a string on nine victories, which included a 12-point victory over #11 Michigan State. Duke last played January 14 as the Clemson Tigers surprised them 79-72. The Blue Devils are looking to start another winning streak while staying on top of the ACC.
Cardinals at Blue Devils – Stats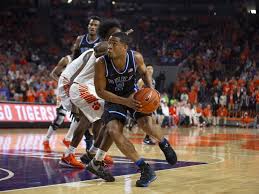 In our Louisville vs Duke pick, the Blue Devils are better on points per game (83.1-74.6), while the Cardinals are a bit better on limiting opponent scoring (61.6-63.3). Duke also tops out in field goal percentage (48.9%-46.1%), assists (16.6 APG-14.5 APG), blocks (6.4 BPG-2.9 BPG) and steals (9.4 SPG-4.8 SPG). Each team is bringing down 40 RPG. Two areas where the Cardinals are performing at a higher level than Duke are three-point percentage (38.2%-36-9%)and free-throw percentage (71.3%-66.4%). Louisville has made 15 more threes than Duke, while the Blue Devils have sunk 21 more frees. Point wise, that 45 more points for the Cards on threes and 21 more on frees for the Devils, offering Louisville a +23 advantage.
Player and Roster Assessment
The Louisville frontcourt is stellar and includes the team's top three scorers. Forward Jordan Nwora is recording 20.4 PPG and bringing down 7.4 RPG. He's hitting 48% from the field ad 44% from downtown. Senior forward Dwayne Sutton, a 52.3% shooter, is hitting for 9.2 PPG while grabbing 9.1 RPG. Meanwhile, senior center Steven Enoch is averaging 10.8 PPG and 6.8 RPG. Enoch is completing 50.7% of his shots. Guard Darrius Perry leads the Cardinals in assists with 3.7 per game. He's scoring 5.5 PPG. Ryan McMahon is the top-scoring backcourt player for the team, averaging 9.0 PPG.
Duke features yet another top-notch frontcourt freshman. Vernon Carey Jr. leads the team in scoring recording 17.6 PPG. Also, his 8.5 RPG and 60.5 FG% top the Blue Devils. In addition, freshman forward Matthew Hurt, a 49.7% field goal shooter, is contributing 10.6 PPG and 3.9 RPG. The backcourt features sophomore Tre Jones. Jones is dishing off 6.8 APG while scoring 15.1 PPG. Freshman guard Cassius Stanley is completing 52.4% of his shots while averaging 11.7 PPG.
Our Louisville vs Duke Pick
After Duke's first loss of the season, they came back and beat Winthrop by 13 points and #11 Michigan State by 10. The Cardinals are hot, as they've won three straight games. However, as of late, they have struggled against top-25 teams. After the loss to Clemson, we think the Blue Devils will want to make a statement with this game. Our Louisville vs Duke pick is the Blue Devils at -8.0.
#11 Louisville Cardinals vs #3 Duke Blue Devils Prediction – Summary
#3 Duke Blue Devils at -8.0