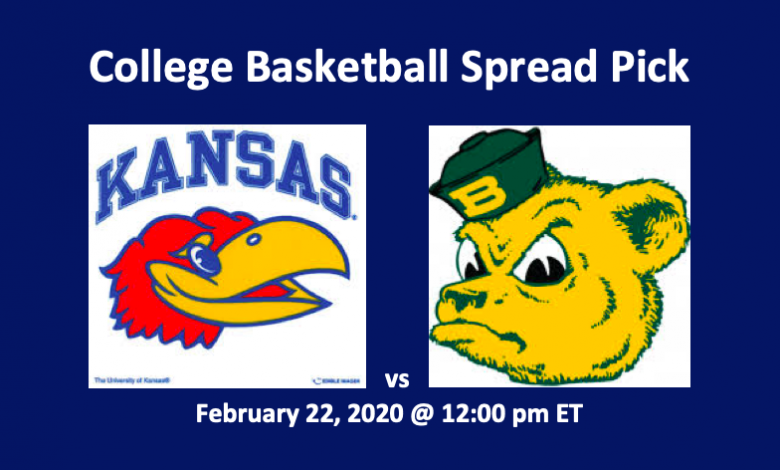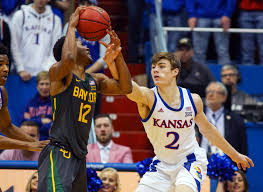 This Kansas vs Baylor pick is Huge. At this point, this Kansas vs Baylor prediction notes that the Bears are favored by 2.0 points. The #3 Kansas Jayhawks (23-3 Overall, 12-1 Big 12) second in the Big 12, while the #1 Baylor Bears (24-1 Overall, 13-0 Big 12) are first.
When this two teams met on January 11, #4 Baylor beat #3 Kansas 67-55. The second and final regular-season meeting between this two team will be on February 22, 2020 at 12:00 pm ET. The venue will be the Ferrell Center in Waco, Texas.
Kansas vs Baylor Pick – Recent Performance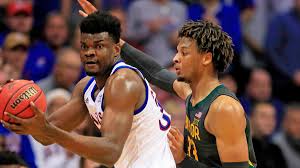 Recently, both teams have been stellar. Since losing to the Bears, Kansas has run off 11 straight wins. That includes a 58-49 beating of #14 West Virginia on February 12. The Jayhawks last played on February 17 as they took down Iowa State 91-71.
The Bears last lost in 2019. That was on November 8 as Washington edged them 67-64. That was not only their last loss of the season, but thus far it has been their only loss. Since then, Baylor has won 23 games in a row. In that run, they have beaten six top-25 teams. The last nationally-ranked team Baylor played was #14 West Virginia. On February 15, Baylor took down the Mountaineers 70-59. The top team in the nation last played on February 18 beating Oklahoma 65-54.
Jayhawks at Bears – Stats
Our Kansas vs Baylor pick notes that in many statistical areas these two teams are very close. Kansas is better statistically on offense and Baylor on D. The Jayhawks are averaging 75.5 PPG and completing 48.8% of their shots. The Bears are scoring 71.2 PPG and hitting 43.1% of their field goals. The Bears are three percentage points better from the free-throw line. In all of the statistical areas, the two teams are almost dead-even
Player and Roster Assessment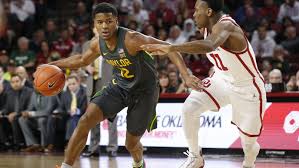 The Jayhawks, who include two double-digit scores in the backcourt and one upfront, are led by guard Devon Dotson and his 18.4 PPG. Dotson, who's completing 47.3% of his field goals, is also averaging 4.1 RPG and 4.2 APG. Also in the backcourt, Ochai Agbaji is good for 10.3 PPG and Marcus Garrett is averaging 9.6 PPG, 4.6 APG, and 4.5 RPG. At seven-feet, Udoka Azubuike is the big talent in the paint. Azubuike is hitting 73.3% of his shots while averaging 12.8 PPG and 9.8 RPG.
For Baylor, guard MaCio Teague is an important part of the team's offense. About two weeks ago, Teague suffered a wrist injury that has kept him off the court. The guard, who's the team's second top scorer with 14.4 PPG, is questionable for this game. The Bears need him. The leading scorer on the club, guard Jared Butler, is averaging 15.6 PPG while completing 42.1% of his shots. Two other guards bring solid shooting chops to the floor. Davion Mitchell is hitting for 9.8 PPG while making 3.6 APG while DeVonte Bandoo is good for 7.8 PPG and 4.0 APG. Forward Freddie Gillespie, who's 6'9", controls the paint. He's averaging 8.8 RPG and 9.6 PPG while completing 55.4% of his shots.
Our Kansas vs Baylor Pick
Our Kansas vs Baylor pick notes that the Bears are vulnerable upfront. With Azubuike the Jayhawks certainly have an edge in the paint. However, despite the fact that the Bears may be without Teague, Baylor still has more depth in the backcourt. Plus, the Baylor defense is exceptionally tough and at home. In the end, we're going with the Jayhawks at +2.0
#3 Kansas Jayhawks vs #1 Baylor Bears Prediction – Summary
Kansas Jayhawks +2.0