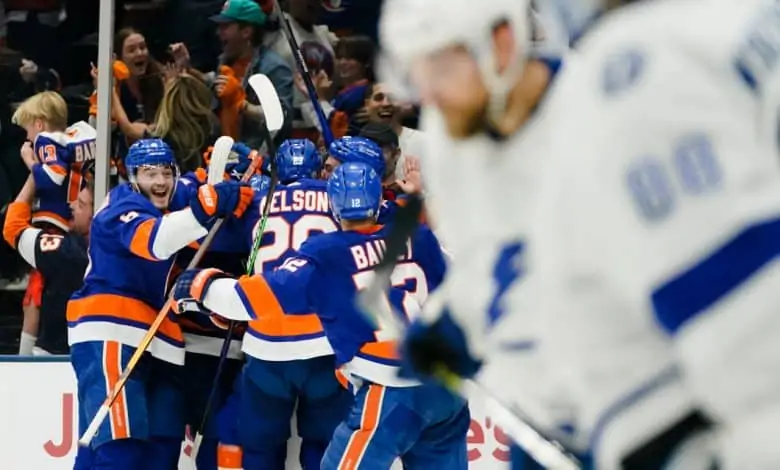 They've gone the distance heading into the June 25th Islanders at Lightning game 7 matchup. New York staved off elimination with a 3-2 OT win at home on Wednesday but now return to Tampa Bay for the decisive do-or-die contest.
Amalie Arena may be better dubbed the 'scene of the crime' after the Lightning were victorious 8-0 at home in game 5. In the last two games in TB, the Lightning have outscored the Islanders 12-2, although NYI did take game 1 here, 2-1. Tampa Bay is -162 to get the win, and go on to try and defend the Stanley Cup against Montreal (NYI +135).
Can Islanders Pull This One Off?
New York was able to save their season despite falling down 2-0 early on Wednesday. Jordan Eberle and Scott Mayfield were able to tie things up in regulation, with Anthony Beauvillier notching the game winner just 1:08 into OT.
The NYI win sets up a do or die for the June 25 Islanders at Lightning game 7 tilt. Beating Tampa Bay twice in a row won't be easy though, as the Lightning have won 13 straight playoff games following a loss dating back to last season's bubble. New York still has to like their chances on Friday though, mostly because the Lightning are just 5-3 on their own ice this postseason.
The horrible game 5 loss has to loom largely for the Islanders however. Semyon Varlamov bounced back with a decent performance on Wednesday stopping 22 of 24 TB shots, but he was atrocious in his last game at Amalie Arena. Varlamov gave up 3 scores on 16 shots on Monday, giving way to Ilya Sorokin after just 15:27 of ice time.
Tampa Bay In a Good Spot
The Lightning may have dropped game 6, but the Islanders are great on their home ice going 21-4-3 at Nassau Coliseum during the regular season. TB was 21-7 at Amalie Arena during the regular season, but already have 3 home losses during the postseason.
One thing Tampa Bay has been able to do in these playoffs is bounce back in a big way following a defeat. The Lightning have gone 5-0 after losses this postseason, winning each one by at least 2 goals. TB has outscored opponents by 20 goals following those five losses.
The puck line (+160) looks good for Tampa Bay, but their offense may take a bit of a hit if Nikita Kucherov is unable to go because of an upper body injury. Kucherov is the leading scorer in these playoffs with 5 goals to go along with 22 assists, but left early in game 6. Andrei Vasilevskiy is also glad to be back at Amalie, after giving up 6 goals on 58 SOG in his last two in Uniondale.
Free June 25th Islanders at Lightning Game 7 Pick
Hard not to like Tampa Bay in this one. They've got home ice advantage in the electric game 7 atmosphere, and are use to the big game moments after last year's Stanley Cup championship. The Lightning rebound well after losses, and this is another great chance to do just that.
Lightning 5 – Islanders 2 
Free Pick: Lightning -1.5 (+160)