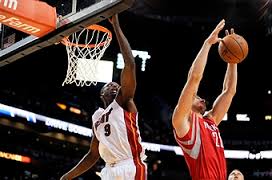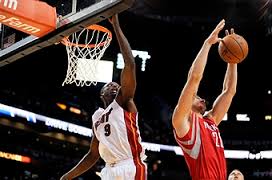 The Houston Rockets (32-11 Overall, 16-7 Away) visit the Miami Heat (11-30 Overall, 5-13 Home) on Tuesday, Jan. 17 at 7:30 p.m. ET. The Rockets, who are third in the NBA West, come to the game having won eight of their last 10. Miami is next to last in the Eastern Conference and have lost four straight. In our Houston plays Miami NBA free pick the Rockets are favored by 8.5 points.
Houston has won nine straight, including beating the Thunder 118-116 and Raptors 129-122, until they ran into the Timberwolves and Grizzlies. At that point they uncharacteristically lost two in a row. On Jan. 11, Minnesota beat them 119-105 and on Jan. 13, Memphis too them down 110-105. They got back on track in Brooklyn beating the Nets 137-112 on Jan. 15. They come into this game with one day rest.
The Heat have been struggling, losing nine of their last 10. Their last win was an away game against the Sacramento Kings 107-102. Miami is home after four road losses in a row. The first loss was 127-100 against the Lakers on Jan. 6 and the next 98-86 against the Clippers on Jan. 8. They then lost on Jan. 10 to the Warriors 107-95. Their last game was played on Jan. 13 against the Bucks. That score was 116-108.
Houston Rockets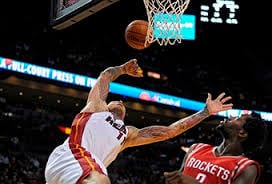 Shooting guard James Harden (28.4 PPG, 8.4 RPG, 11,7 APG) is one of the best players in league. Harden is hitting 44% of his shots and has 1.27 SPG. Both PF Ryan Anderson (14.0 PPG, 5.2 RPG, 42 FG%) and center Clint Capela (11.8 PPG, 8.0 RPG, 64 FG%) are listed as being out, but both have been updated to possibly playing in the Miami game. SF Trevor Ariza (12.9 PPG, 5.3 RPG, 1.98 SPG) will play, bringing his fine offensive and defensive skills to this game.
The Rockets are scoring 114.9 PPG and allowing 107.6 PPG offering a differential of plus 7.3 points. Despite any injuries, the Rockets are deep in both the frontcourt and backcourt. This is a team that is running on all pistons.
Miami Heat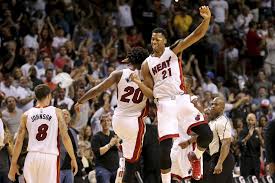 To start with, SG Josh Richardson (11.2 PPG, 39 FG%) is out. Richardson is an important contributor. PG Goran Dragic (19.0 PPG, 6.4 APG, 45 FG%) leads the team in scoring and assists and has a 40% three-point mark. Upfront center Hassan Whiteside (17.5 PPG, 14.3 RPG, 545 FG%) is a major inside force. He's averaging 2.16 BPG. PF James Johnson (11.7 PPG, 4.9 RPG, 49 FG%) is an important contributor.
The Heat are scoring 98.3 PPG. That's the second-lowest average in the NBA. They're giving up 102.8 PPG. The team has a minus 4.5 PF/PA, which is third worst in the NBA East. Miami has a decent bench that offers good support.
Houston Plays Miami NBA Free Pick
Houston dominates Miami in just about every offensive and defensive category. Although the Rockets come to this game having played five games in the past eight days, our Houston plays Miami NBA free pick is the Rockets at -8.5
Houston Plays Miami NBA Free Pick: Houston -8.5