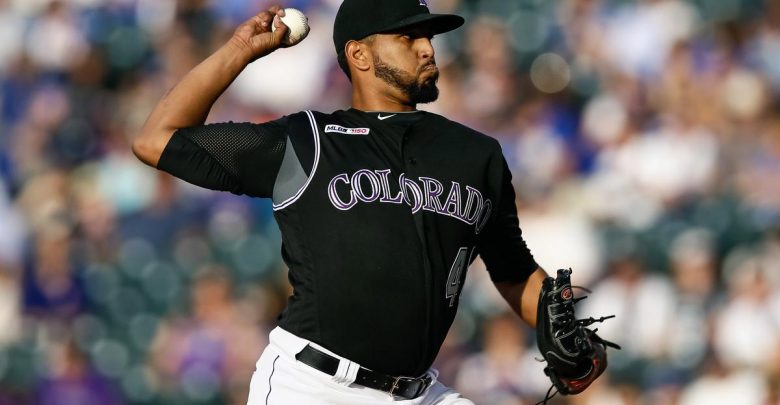 The Houston Astros look to extend their current three-game winning streak when they travel to face the Colorado Rockies in the opener of a two-game Interleague series Tuesday night. Houston has won five of seven after slumping with a seven-game losing streak in mid-June, while the Rockies enter this series winners of four of their last seven, including splitting a four-game series with the Los Angeles Dodgers over the weekend.
Colorado still trails first-place Los Angeles by 12 games in the National League West, but the Rockies are currently tied with Philadelphia for the second Wild Card spot in the National League. Houston has led the American League West for much of the season and currently holds a 6.5-game advantage over second-place Texas.
The moneyline for this contest has the Houston Astros +115 and the Colorado Rockies -125. The over/under for the game is set at 13.
Debut Performance
The Astros will call 24-year-old right-hander Jose Urquidy up from Triple-A Round Rock to make his Major League debut as the starter in this one. Urquidy has split time between Double-A Corpus Christi and Round Rock this season, putting together a 5-3 record with a 3.40 ERA in 15 games, 13 of them starts.
With a pitcher making his Major League debut on the mound, Houston will look to be aggressive early and give him a lead to help him relax a bit. Leftfielder Michael Brantley has been the team's most consistent hitter this season, batting a team-best .313 to go with 11 home runs and 43 RBI. Third baseman Alex Bregman has also been a tough out, batting .266 with team-high totals in both home runs (22) and RBI (52).
Emerging Ace
Colorado's pitching staff has had its struggles this season, but Tuesday's starter, German Marquez, has been the best of the bunch. Marquez is 8-3 on the season with a 4.29 ERA, having won five of his last six decisions. Marquez is coming off a win against San Francisco last week in which he threw five innings, giving up two earned runs on seven hits, including a home run, while striking out two and walking two. Home runs were a bit of a problem for Marquez in June, as he gave up six in his five starts during the month.
The Colorado offense has been solid for much of the season, though there always seems to be at least one key player out with injury for the Rockies. Currently, that's shortstop Trevor Story, who is batting .294 with 17 home runs and 48 RBI. Centerfielder Charlie Blackmon was out for a while at the end of May and early June, but since his return, he's been red hot. After returning to the lineup on June 8, Blackmon hit .412 with 10 home runs and 25 RBI in 22 games.
Rockies Get Win
Normally, it's hard to pick against Houston, but the Astros do have a pitcher making his Major League debut on the mound at Coors Field, probably the worst place for a debut start. Throw in the fact that Colorado is playing well and has a deep lineup of hitters, and it doesn't look like a good night for Urquidy and the Astros. I'm going with Colorado -125 in this one.