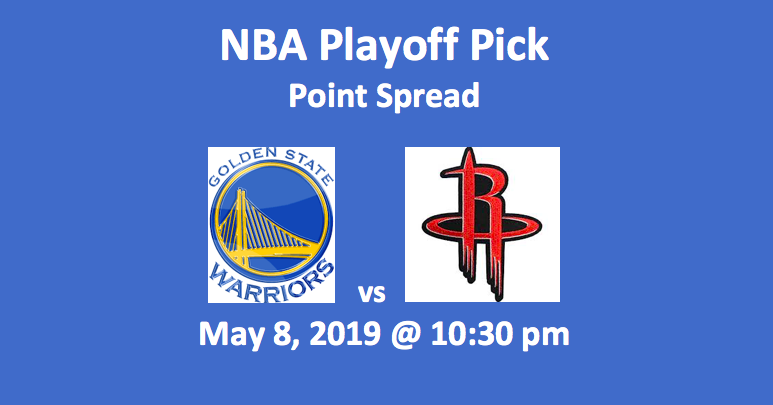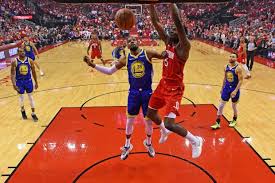 This Golden State Warriors vs Houston Rockets prediction and preview has State at -6.0 or -6.5. Our Golden State Warriors vs Houston Rockets prediction and preview notes that thus far this series has been kind to the home team. The Warriors took the first two games of the series 104-100 and 115-109. Then the series shifted to Houston where the Rockets were victorious 126-121 (OT) and 112-108. The big question with this Golden State vs Houston pick is not so much who will win but will the Rockets cover? From the outset, we think they have a good chance of doing so.
Golden State Warriors vs Houston Rockets Pick – Players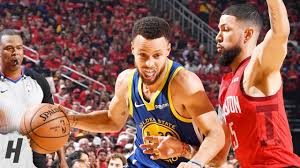 The Golden State Warriors will be without centers Damian Jones and DeMarcus Cousins, while PG Shaun Livingston is listed as being day-to-day. The Rockets have no injured players. The Warrior will look to Kevin Durant in front and Stephen Curry in back to set the tone and pace. Durant is averaging 35.2 PPG, 5.2 RPG, and 5.0 APG. Curry is dishing off 5.2 APG and grabbing 5.7 RPG while averaging 23.3 PPG. Plus, Thompson, Green, and Iguadola are each averaging double figures in points.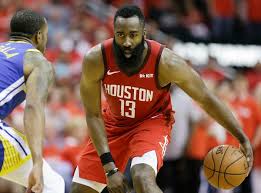 For Houston, PG James Harden is the leading scorer, averaging 31.3 PPG. He's also making 6.7 APG while grabbing 7.0 RPG. His inside/out play is spectacular. SG Eric Gordon has been putting in 18.7 PPG while PG Chris Paul has added 16.6 PPG, 5.9 RPG, and 5.3 APG. Inside, PJ Tuckers and Clint Capela are both hitting for double figures. Capela, with 9.9 RPG, is close to a double-double in the playoffs. As noted, Houston comes to this game in better health than Golden State. In such a competitive series that's featured back-and-forth play, good health could be an factor in determining which team prevails.
Warriors vs Rockets Stats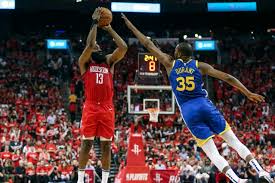 These two teams are equal on rebounding at 43.7 per game. But the Warriors are winning the scoring (119.0 – 109.1) and assist categories (28.6-17.9). The Rockets are committing about three fewer personal fouls per game. Golden State is plus-four percentage points on FGs and two-point shots. The Warriors are also plus-eight percentage points on frees.
Our Golden State Warriors vs Houston Rockets Prediction
Our Golden State Warriors vs Houston Rockets prediction notes that the Warriors have won two close games on their home court. The big question is will they come back tonight and blow out the Rockets or will Houston keep it close? We think that Houston will once again keep it close. Our pick for this Houston and Golden State matchup is the visiting Rockets at +6.5.
Summary Pick Game 5 – Golden State vs Houston
Houston Rockets at +6.5