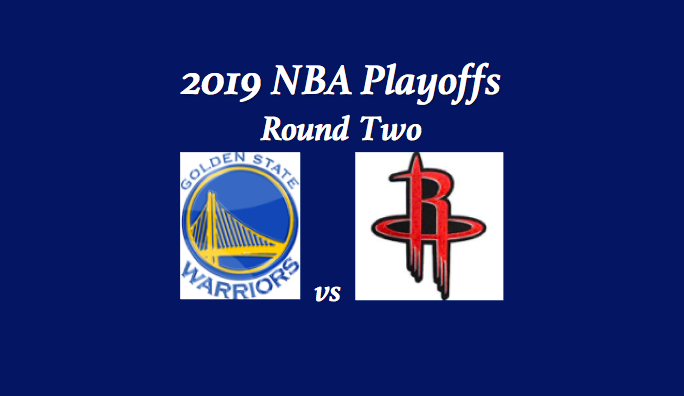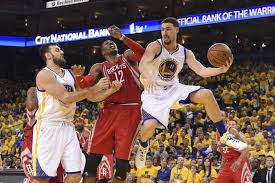 This Golden State Warriors vs Houston Rockets pick envisions a major battle. In devising our Golden State Warriors vs Houston Rockets pick and preview, we note that the Rockets took the regular-season series three games to one. The Warriors finished first in the NBA Western Conference with a 57-25 mark. The Rockets, who had a 53-29 record, were fourth. In their initial playoff series, it took the Warriors six games to eliminate the Los Angeles Clippers. The Rockets beat the Utah Jazz in five games. This 2019 NBA Western Conference Semifinal series starts April 28 at 3:30 pm ET. The first two games will be at ORACLE Arena in Oakland, CA and the second two in Houston. If need be, the teams will then alternate the final three contests between Oakland and Houston.
Golden State Warriors vs Houston Rockets Pick – Stats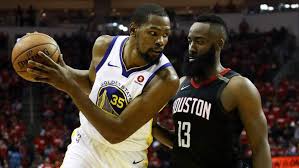 In the regular season, the Rockets gave up 109.1 PPG to opponents, while the Warriors allowed 111.2 PPG. In terms of points scored during the season, Houston was good for 113.9 PPG, giving them at PF/PA differential of +4.8 PPG. Golden State averaged 117.7 PPG, which made them +6.5 PPG.
In the playoffs thus far, the Warriors have allowed 120.5 PPG while scoring 124.5 PPG. In their first 2019 NBA playoff series, Houston allowed the Jazz just 97.8 PPG. The Rockets scored, on average, 107.0 PPG. If the Rocket D can curtail to a degree Golden State's scoring machine, they could take this series.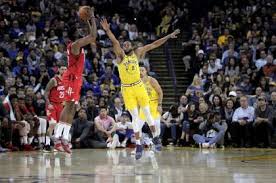 Other stats that come into play in this series, include assists and steals. Golden State dished off 31.2 APG versus the Clippers. Houston posted just 18.1 APG. However, when it comes to steals, it's the Rockets that have the edge, 9.2 to 7.0. The Rockets need to slow down the Warriors, and they may just have the defensive chops to do so. If they can do so, this could certainly be a much closer series than some may have anticipated. The Golden State Warrior are not invincible this season. Certainly, Houston has proved that. Now, can the Rockets bring that mojo into the postseason?
Golden State vs Houston – Players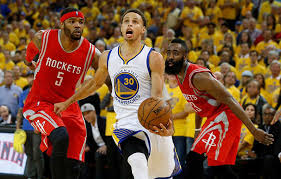 For Golden State two important scorers, PG Stephen Curry and SG Klay Thompson, are both day-to-day. In round one, Curry scored 24.7 PPG while making 5.2 APG and grabbing 6.7 RPG. He is one of the motors that makes this team go. Thompson, who was third on the team in scoring, averaged 17.3 PPG. SG Andre Iguodala has been solid with 10.0 PPG, 4.7 APG, and 3.8 RPG. In the frontcourt, Kevin Durant is a supreme player. Thus far in the postseason, Durant is averaging 35.0 PPG, 5.3 RPG, and 5.3 APG. Also in the paint, PF Draymond Green offers 12.0 PPG, 7.8 RPG, and 7.8 APG. Three centers alternate starting and playing time, averaging 5.4 PPG and 5.6 RPG.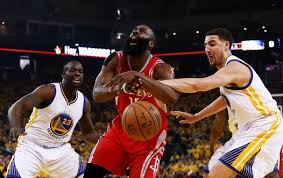 Our Golden State vs Houston preview notes that the Rocket backcourt is an essential part of any success this team may enjoy. Two point guards, James Harden and Chris Paul, have been top performers thus far. Harden averaged 27.8 PPG, 8.0 APG, and 5.8 RPG. Paul has been good for 17.4 PPG, 5.2 APG, and 5.4 RPG. SG Eric Gordon is averaging 15.2 PPG. In the paint, SF PJ Tucker and center Clint Capela are the anchors on this team. In round one, Capela posted double-double numbers, averaging 10.6 RPG and 10.8 PPG. Tucker has scored 12.0 PPG and 6.6 RPG.
Keys to Warriors vs Rockets Series
GS assists can overwhelm opponents
Houston D is tough and can win games
Curry's health is an issue
Rebounding battle could go either way
Both backcourts are exemplary but Houston's is healthy
Our Golden State Warriors vs Houston Rockets Pick
Our Golden State Warriors vs Houston Rockets pick is not a kneejerk one. The Warriors struggled at times in their first-round series. Plus, health is certainly an issue. Houston has been the top team in the regular season series this year, but they have had a tough time in the postseason. We do like the Houston Rockets in this series. Our Warriors vs Rockets pick is the Rockets in six games.
Summary Golden State Warriors vs Houston Rockets Pick
Houston Rockets in six games